Kuni Honda Earns Honda Environmental Leadership Award for Reducing Its Environmental Impact
10% reduction in energy use, conservation of water, and recycling at core of "green dealer" effort
Centennial, CO March 14, 2018 -  Kuni Honda has earned the
Honda Environmental Leadership Award
and has been recognized by American
Honda Motor Co. Inc., as a leader in the company's effort to reduce the environmental impact of Honda dealerships in communities around the nation. 
Kuni Honda earned the award for achieving specific environmental targets based on a rigorous points system that includes reducing total energy use at the dealership by at least 10 percent.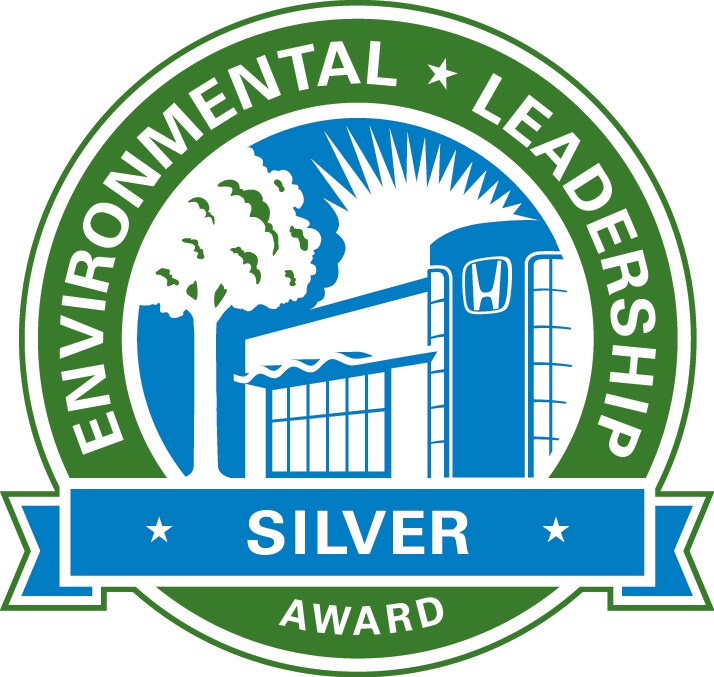 "We're extremely proud to be part of Honda's global effort to help preserve and protect the environment," said Brian Nicholson, General Manager.  "Our customers already benefit from owning a fuel-efficient Honda vehicle, but now they have the extra piece of mind, knowing that they're doing business with a local Honda dealer that is committed to reducing its environmental impact in the community."
Kuni Honda has taken numerous steps to reduce its environmental impact and to earn the Honda Environmental Leadership Award. 
Honda introduced its new voluntary "green dealer" program to its U.S. dealers in the fall of 2011. The company uses a third party evaluator to conduct environmental audits of participating dealers and recommend strategies for reducing their energy use.
Over the past three decades, Honda has been working to reduce the environmental impact of its products, manufacturing and logistics operations, and facilities in North America. These initiatives are reported annually in the company's North American Environmental Report.  Expanding its environmental initiatives to its dealer body is the logical next step in the company's effort to reduce waste, energy use and CO2 emissions across the full spectrum of its operations and throughout the lifecycle of Honda products, including at the point of sale. 
Honda Environmental Leadership
Based on its vision of "Blue Skies for our Children," Honda is working to advance technologies that address society's environmental and energy concerns. Honda is targeting a 50 percent reduction in its total company CO2 emissions on a global basis by 2050, compared to 2000 levels.  The company also is striving to realize significant growth in sales of electrified vehicle which includes the introduction of the Honda Clarity series of vehicles, beginning with the hydrogen-powered Clarity Fuel Cell vehicle, launched in late 2016, followed by a new Clarity Electric and Clarity Plug-In Hybrid in 2017. 
Honda also is endeavoring to reduce the environmental impact of its products throughout their life cycles, including the reduction of energy use and emissions from our production, distribution and sales. This includes the Environmental Leadership Award "
green dealer
" program, through which more than 100 U.S. Honda and Acura dealers have reduced annual CO2 emissions by more than 12,500 metric tons.
Kuni Automotive Announces Acquisition by Holman Automotive
Deal will create one of the nation's largest family-owned dealer networks with significant charitable impact
Vancouver, Wash. - April 12, 2016 - Kuni Automotive of Vancouver, Washington, today announced it is being acquired by Holman Automotive of Maple Shade, New Jersey. The arrangement will create one of the largest privately owned dealer networks in the country; it also ensures a long and sustainable future for the Wayne D. Kuni and Joan E. Kuni Foundation. 
Kuni Automotive, with dealerships in Washington, Oregon, California, Colorado and Kansas, will maintain its brand name and will be known as "Kuni Automotive, a Holman Enterprise." Holman currently has dealerships in New Jersey, Pennsylvania and Florida. The acquisition, expected to be finalized this summer, will create a bi-coastal dealer network with 33 dealerships and more than $3 billion in overall annual revenue, doubling Holman Automotive's retail holdings. The terms of the deal will not be disclosed.
It was vital to Kuni Automotive CEO Greg Goodwin to find a buyer who not only shares his company's values, but would also create a company that is not just bigger, but better. 
"Kuni Automotive is committed to actively planning for the future, because we take our role as an employer seriously and want to continue the company's values set forth by the Kuni Family. In partnering with Holman Automotive, we are creating a company that is greater than the sum of its parts," said Goodwin, who will remain with the company in a leadership position. "It's easy to get lost in the 'bigness' of this transaction, but 'big' doesn't serve a purpose if it doesn't improve the company."
A key component of the arrangement is continuing the mission of the Wayne D. Kuni and Joan E. Kuni Foundation, the majority shareholder of Kuni Automotive. The charitable foundation has supported cancer research and worked to enhance the lives of developmentally disabled adults since 2005. 
The Kuni Foundation recently opened Stephen's Place, a facility in Vancouver, Washington, designed to provide supported housing to adults with intellectual disabilities, meeting the diverse needs of its residents by enabling each of them to "age in place" as members of a productive, independent community. 
The deal secures the Foundation's ability to fund its work well into the future. Additionally, the Foundation expects to be able to broaden the scope and geography of its charitable outreach.
"Our two companies share a deep culture of charity and community service," said Melinda K. Holman, Chairman of the Board of Holman, who will join the board of the Kuni Foundation. "Knowing that more than half of the proceeds will go to the Kuni Foundation and serve people in need for decades to come is a wonderful byproduct of this transaction."
The expansion between Kuni Automotive and Holman Automotive comes at a time of consolidation and innovation in the automotive industry. Both parties share a commitment to continuing the vision of Kuni Automotive's founder, the late Wayne D. Kuni. 
"The deal with Holman Automotive will allow Kuni to remain a leader in the auto industry for generations to come, and will ensure the foundation continues its legacy of investments in the community," said Sean Kuni, son of Wayne and Joan Kuni.
Once the deal has been finalized, Kuni Automotive, a Holman Enterprise, plans to remain a privately owned company as it continues to grow and flourish.
Holman Automotive, headquartered in Maple Shade, New Jersey, is an international automotive services company, which employs more than 4,800 people. Beginning in 1924 as a single Ford dealership, Holman has evolved to encompass five business segments that support diverse sectors of the automotive market:
Holman Automotive
, a retail automotive group consisting of 19 dealerships throughout New Jersey, Pennsylvania and Florida; Steward Financial Services, an auto retail finance company; Holman Parts Distribution, a national multi-brand powertrain parts distributor; Auto Truck Group, a truck up-fitting business; and ARI, the largest privately-owned fleet leasing and management company in North America. Holman, a family-owned business, focuses on building relationships and investing in people.  With values rooted by founder Steward C. Holman, the company continues to promote a culture of philanthropy, which supports organizations such as the United Way and others important to the Holman team.
Following the completion of its acquisition of Kuni Automotive in 2016, Holman will become one of the largest privately owned dealership groups in the nation. 
About Kuni Automotive
With 14 dealerships located in five western states and more than 1,450 employees,
Kuni Automotive
is a family-owned company that strives to treat each one of its customers as a member of the family. It was founded in 1970 by Wayne Kuni, then an investment manager for Motors Company, a division of General Motors, as Kuni Cadillac in Beaverton, Oregon, growing to the company it is today through a series of well-planned acquisitions. Following Wayne Kuni's death in 2006, the Wayne D. Kuni and Joan E. Kuni Foundation became the largest shareholder in the company, meaning that each sale benefitted a charitable organization that supports cancer research and works to enhance the lives of developmentally disabled adults in the Pacific Northwest.