Honda Battery Sales and Service
A car battery is the heart of every vehicle. An average car battery lasts between 3-5 years; battery life can be shortened by driving habits and exposure to extreme elements.
Signs of Car Battery Trouble: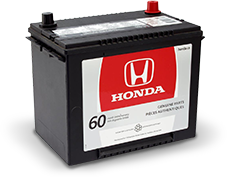 Engine Cranks but Doesn't Turn Over

Nothing Happens

Routine Jump Starts
Other related components can effect and be affected by the vehicle's battery. 
A vehicle starter analysis that checks to make sure the engine starter is drawing the proper amount of current from the battery, and the battery can handle the electrical load from the starter.

An alternator check to determine if the alternator is generating the proper amount of current and voltage to keep your battery charged and your electrical systems performing as expected.

A battery check to make sure voltage output is correct, since a weak or dead battery can cause significant damage to electrical system parts, like alternators and starters.
Kuni Honda on Arapahoe also sells Honda Genuine Batteries. Every OEM battery comes with a 100-month warranty which includes 3-year free replacement coverage.