Should Your Teen Drive a New or Older Used Car?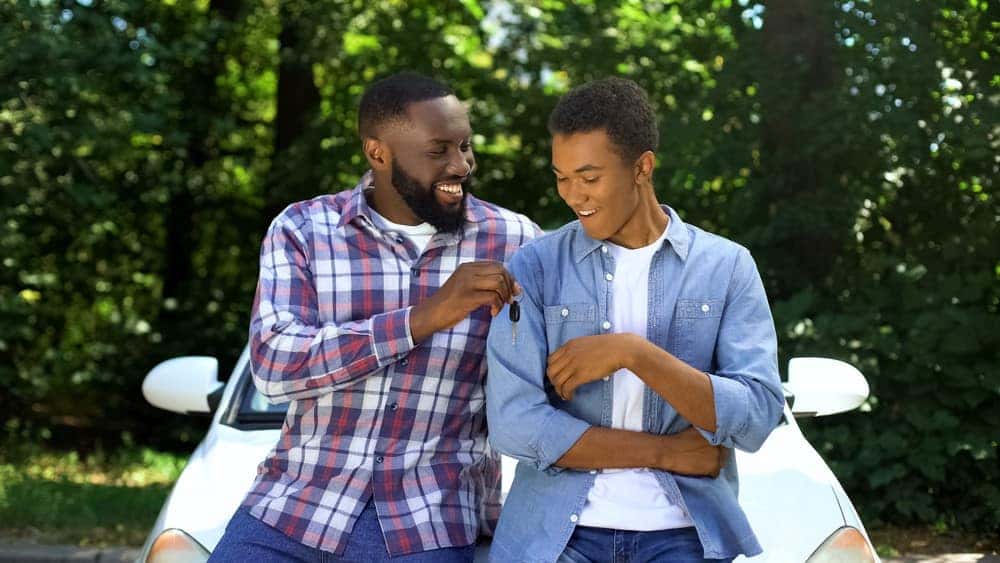 Your firstborn just celebrated his 15th year on Earth. It should be a monumental and celebratory event, complete with cake, cake, and more cake. Yet you can't seem to pull his attention away from his PS5 for even a second. Oh! But he sure doesn't have a problem badgering you about getting his – gasp! – driver's license and – double gasp! – his first car.
You instantly get sucked into a flashback of your first year driving without your parents playing Big Brother in the passenger seat. The (probably) slightly illegal things you did with friends. The many near misses and subsequent freak-outs. The shenanigans. (Oh, the shenanigans!)
No thanks. My kid can wait until he's 43 to drive, you think. I can drive him to movie date nights until I retire, you think. It won't be so bad, you think.
Unfortunately, it will be so bad. Time to let him fly, as they say. But the issue remains: What type of car do you buy him? Or do you just give him your old crap-mobile and call it a day?
Today, for all you slightly terrified parents out there, we ask and answer the age-old question: Is it better to give a newbie teenage driver the keys to a new car or an older, used vehicle? Excuse me for a second while I dust off my high-school Debate Club letterman jacket. (Shut up, it still fits just fine.)
The Case for New: Safety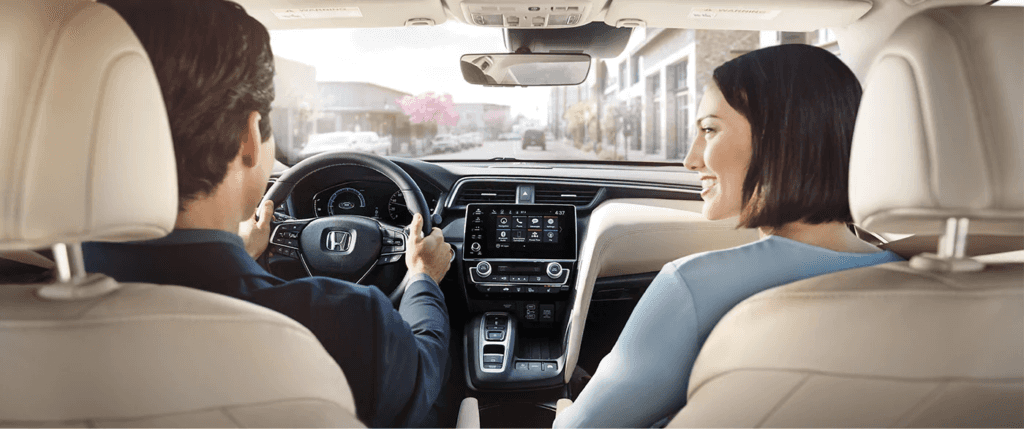 First and foremost, no answer will apply to every family or every situation or even every region. In some cases, a new car might not make as much sense as an older vehicle. However, for all intents and purposes, a new car should be your teen's first vehicle because it's probably much safer than an old beater. (Can you really put a price on your spawn, your own flesh and blood?)
"Nah. That's just a myth purported by the automobile industry to make money!"
I assure you, it's not a myth. New cars are FAR safer than their older counterparts. Like, ultra-mega-super-duper safer. They're like the Iron Man suit from the third movie, while old cars are like the Iron Man suit when Stark was Six Million Dollar Man-ing things from inside a cave.
Don't believe me? Check out this timeline of significant U.S. vehicle safety regulations, milestones, and automotive innovations since 2000:
2000 – Transportation Recall Enhancement, Accountability and Documentation (TREAD) Act is enacted. This Act requires vehicle manufacturers to report safety recalls and information on defects, injury, or death related to its products to NHTSA.
2001 – NHTSA adds the first crash avoidance rating for vehicles. This is a static test to measure the risk of a vehicle rolling over in a single-vehicle crash.
2002 – Traffic-related fatalities in America drop 16%, a 25-year low.
2003 – IIHS begins side-impact crash-testing and assessing rollover risks for new cars and SUVs.
2004 – Automatic parking systems are offered for the first time.
2007 – Electronic Stability Control (ESC) is mandated on all passenger and light-duty vehicles under Federal regulation. This life-saving technology system uses computer-controlled braking of individual wheels to help drivers maintain control of a vehicle that is beginning to lose directional control. NHTSA estimates that ESC saved 2,202 lives from 2008 to 2010 alone.
2008 – Tire Pressure Monitoring Systems (TPMS) are required on all new cars and light trucks.
2009 – Advanced autonomous braking systems become options in certain vehicles, mostly alt-fuel vehicles.
2010 – Pedestrian detection and emergency braking systems are developed and added as an option in certain vehicles.
2011 – Active safety systems such as forward collision warning, active braking, rearview backup cameras, parking assist, lane departure warning, blind-spot warning, and adaptive lighting are added to a growing number of new vehicles.
2012 – Adaptive cruise control joins a growing list of available vehicle safety vehicles.
2018 – Rear backup cameras now required on all passenger cars, light trucks, and SUVs to reduce accidents and fatalities when backing up vehicles.
Just 20 years ago, medium-to-high-speed car crashes were a casualty coin flip. These days, due to advanced vehicle construction, structure, and safety measures, your odds of surviving a car wreck are much higher.
Every Honda vehicle, from the most affordable Honda Civic to the large-and-in-charge Honda Pilot, is equipped with standard Honda Sensing. This includes driver-assist and automotive safety features for teens, such as Collision Mitigation Braking, Road Departure Mitigation, Adaptive Cruise Control, Lane Keeping Assist, and even fancy new tech like Traffic Sign Recognition.
But wait! There's more! Honda also offers a few other niceties for teens (and parents) in select models and trims. Blind Spot Information System uses radar sensors to detect vehicles and objects hidden in blind spots, obviously, while Cross-Traffic Monitor alerts users if other vehicles are approaching when backing up. Speak with your Honda dealer near you for availability and details.
The Case for Old: Education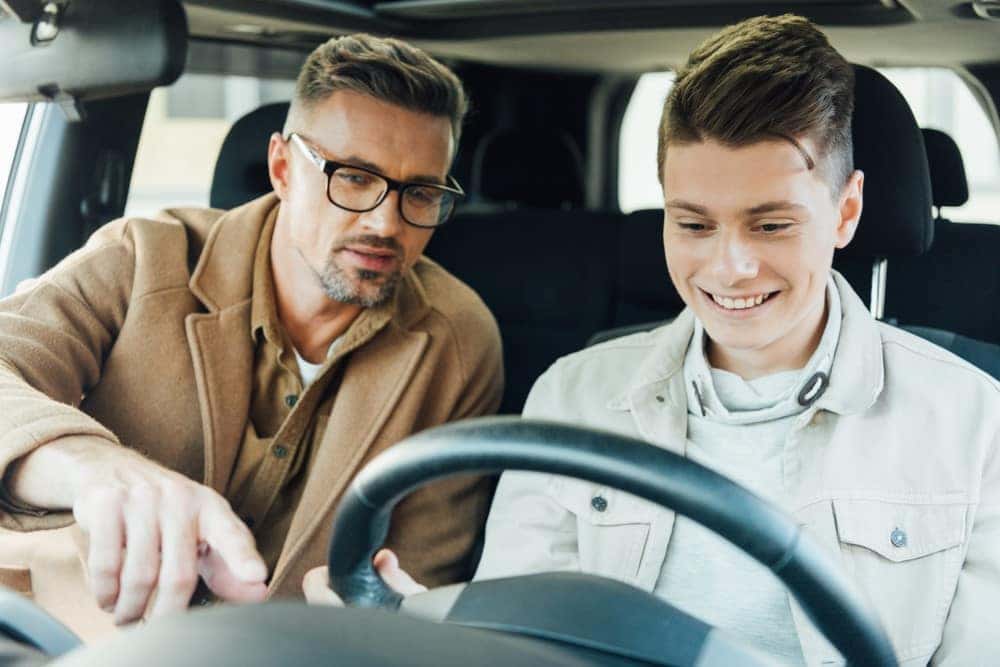 Yes, most parents opt for a pre-owned car for teenage drivers because they're cheap – or at least cheaper than a new car. And that's certainly a valid reason if you approach things with your purse in mind. After all, they're probably going to dent, scratch and bruise that thing up anyway, so why spend a ton on their first car?
However, don't just buy a cheap car for your teen because its sticker price is appealing. One of the main reasons you should choose a used car doesn't have anything to do with money; it has more to do with teaching them how to drive without helpful aids like blind-spot monitoring and lane-change alerts.
Personally, I'm a big proponent of KISS – Keep It Simple, Stupid. The more distractions there are, the more difficult it can be for young driver to get their bearings and actually learn to drive. If you stick to the basics – defensive driving and the like – you'll be providing beneficial lessons for your teen without overburdening them with a Star Trek-like dashboard.
Not only that, but once new teenage drivers get used to their car keeping them out of danger, they'll always rely on those safety measures being there. For instance, what happens when they drive a rental car that doesn't have the same safety systems activated? Humans are creatures of habit, so we suspect the answer to that is somewhere in the neighborhood of "uh-oh."
That doesn't mean you should give your teenager an old hand-me-down or buy them a beat-up jalopy, though.  It's a balancing act between "affordable" and "safe." Choose an inexpensive used car under $10k that has some advanced safety technology, just not the whole kit and caboodle, and teach them situational awareness instead of being reliant on big tech to save them.
Shop Kuni Honda in Centennial, CO
New or used, your teen's first car is waiting at Kuni Honda on Arapahoe. If you can somehow turn the Internet off and force your kid away from the TV for an afternoon, swing by our car dealership near Denver to check out our selection. You'll discover that we have excellent pricing on pre-owned cars on sale and certified pre-owned Honda vehicles, as well as special finance offers on new Honda models like the Civic Hatchback and Accord.
Contact Kuni Honda at (720) 636-7000 to book a test drive appointment or learn more about our inventory. We're located at 10750 E Arapahoe Rd in Centennial, CO, and proudly serve parents and teen drivers throughout Littleton, Aurora, Denver and Parker.