2022 Honda Civic Hatchback: What's New?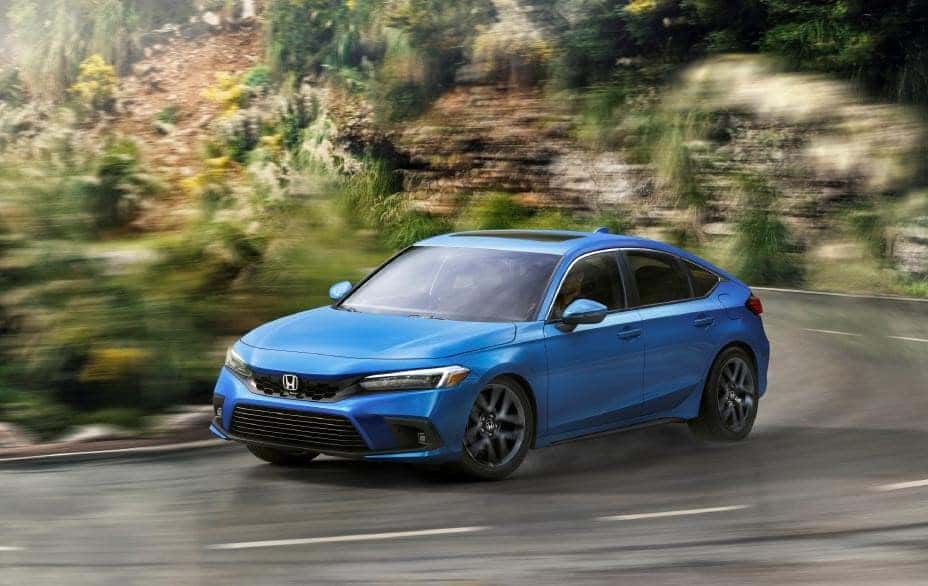 In 2015, a new summer blockbuster debuted at our Honda dealership near Denver: The Civic Hatchback. It was the first Civic 5-door in America, and for five straight years, the Civic Hatch was one of the most popular new Hondas in the country, representing over 20% of all Civic model sales. It ticked all the right boxes for the Millennial generation. Youthful style? Check. Large customizable touchscreen? Check. Quick, bold, and surprisingly spacious? You bet.
Well, the time has come to say goodbye to the 10th-generation Civic (that boomer). Instead, we welcome a new generation of Civic sedans and hatchbacks. Here's what's all-new with the all-new 2022 Honda hatch, which is available this summer at a Honda dealership near you.
The New & Improved Civic Hatch
Like its previous iteration, that fun-to-drive spirit, simple European-inspired design, and dynamic handling all come standard in the new Honda Civic Hatchback. But we aren't talking about what the Civic still has; this is about what the Civic is adding to the mix – and it's a lot more than you probably bargained for.
6-Speed Manual
First up, the Civic Hatchback, keeping true to that fun-to-drive verve, ups the ante with an available 6-speed manual transmission. While a large portion of American drivers say they don't know how to drive a stick shift, the trend is flipping, particularly for the younger (18-34 years) bracket. Long live the manuals!
Worried about how to drive a manual Civic Hatchback in Denver? You can simply opt for a Civic Hatchback 1.5L Sport Touring with an automatic transmission and a user-selectable Sport mode. Toggle that mode on and off at the center console, and you'll be able to modify your drive ratios for optimum traction.
Under the Hood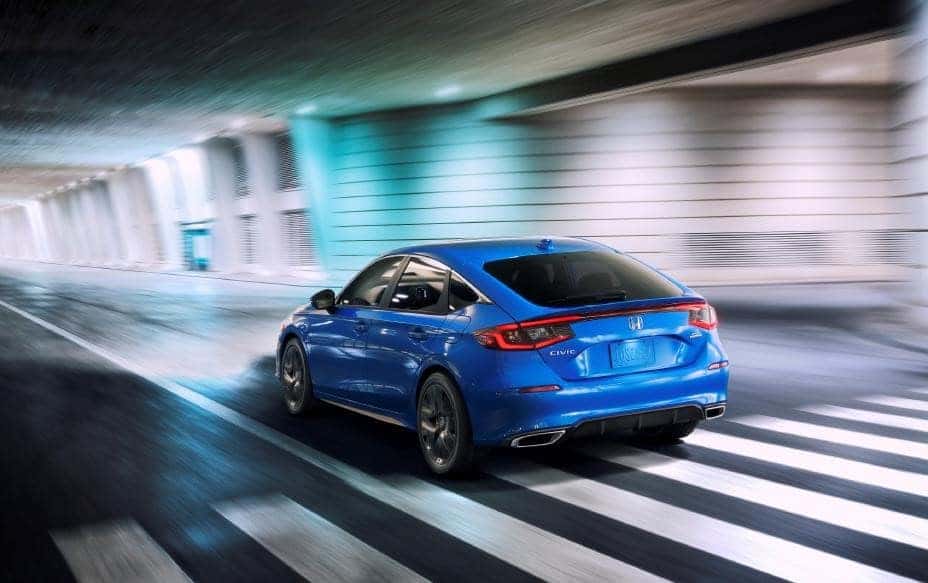 Speaking of engines, let's dive into what you can find powering the Civic Hatchback.
Standard on Civic Hatch LX and Sport models is a 2.0L 4-cylinder that makes 158 horsepower and 138 lb-ft of torque at 4,200 rpm.
The Civic Hatch EX-L and Sport Touring are fitted with a turbocharged 1.5L 4-cylinder that makes 180 hp and 177 lb-ft of torque at 1,700-4500 rpm. Newly enhanced turbo plumbing and VTEC exhaust improve fuel economy.
Manual transmission and the Sport driving mode are available in just the Sport and Sport Touring models.
Sporty Design
The Civic Hatch was always sporty. The 2022 Civic Hatchback is sportier.
It all starts with the silhouette. Lovers of the old-school coupe-hatchback style will appreciate Civic's profile, which looks kind of like this in the back: \. Get it? Good.
Windshield pillars have been pushed back 2 inches, giving the car an in-motion appearance while also improving driver visibility. The horizontal beltline accentuates the Civic's new tires and wheels. The front mesh grille is slightly concave, mimicking that coveted European "scoop" look.
That "look at me" aesthetic is made even more prominent with the addition of two all-new Honda paint colors: Boost Blue Pearl and Smokey Mauve Pearl. (You just have to see the Mauve to really understand its impact on the eye.)
A Cabin for Kings and Queens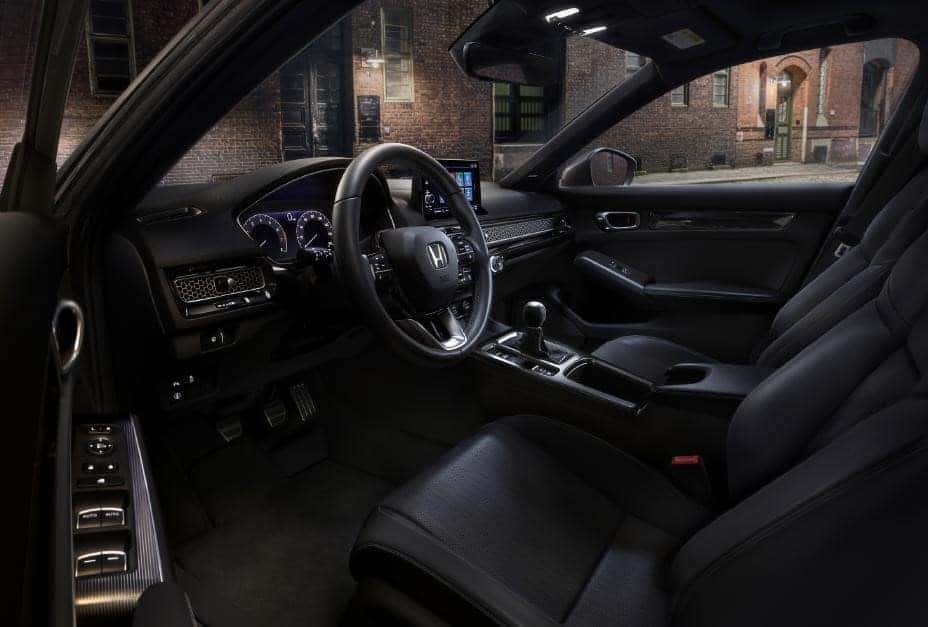 Not only is the interior of the Civic Hatchback comfy and cozy, but it's also designed to enhance the driver's natural inkling to go where no human has gone before. Okay, that's a bit of hyperbole, but the Civic Hatchback is perfectly suited for every type of driver, from the everyday commuter to the weekend racer.
Bose Premium Sound System
There's nothing sus about the Civic's audio system. The newly available Bose setup incorporates Centerpoint 2 and Bose SurroundStage digital signal processing for high-fidelity tunes no matter the volume level.
It's custom-engineered precisely for Civic Hatchback's cabin, with numerous speakers, subs, and amplifiers to ensure every passenger gets concert-quality sound:
One 3.25-inch (80 mm) Bose Twiddler mid/high-range speaker in the center of the instrument panel
Four 1-inch (25 mm) lightweight neodymium tweeters – one in each A-pillar and one in each rear door
Two 6.5-inch (165 mm) wide-range speakers – one in each front door
Two 5.25-inch (130 mm) wide-range speakers – one in each rear door
Two 3.25-inch (80 mm) Bose Twiddler mid/high-range speakers – one in each C-pillar
One 8-inch (200 mm) woofer housed inside a custom enclosure mounted in the right rear quarter panel
A Bose digital amplifier with 12 channels of custom equalization and advanced digital signal processing
Isn't it time to treat your eardrums?
Body Stabilizing Seat
Standard on all Civic Hatchbacks for sale near you is a new Body Stabilizing Seat. This improves comfort levels on long drives, short drives, and anything in between. With Civic Hatchback EX-L trims and up, you can get the same feature with perforated leather material, plus additional shoulder support in Civic Hatchback Sport Touring trims.
More Legroom
The previous Civic Hatchback was pretty roomy in the back. But Honda, never resting on its laurels, made the new Civic Hatch even more spacious. It's got an additional 1.4 inches of rear legroom without sacrificing any headroom, which is all thanks to Honda's clever new liftgate hinges.
New Display Screens
As the most technologically advanced Civic Hatchback ever, the 2022 model comes equipped with a standard 7.0-inch color LCD touchscreen – the largest standard display in Civic's long history. Physical volume knobs included, as is Apple CarPlay and Android Auto compatibility. New all-digital speedometers and tachometers are cherries on top.
Honda's Sport Touring Civic Hatchback features an all-new 9.0-inch color touchscreen. Wireless Apple CarPlay and Wireless Android Auto are included, as is a cordless phone charging pad.
An upgraded 10.2-inch HD full-color instrumentation display, which is configurable, is standard on Civic Hatchback Sport Touring models. This also includes one of two visual layouts: traditional round dials or bar-graph style.
Oh, there's also a 0.8-inch "finger rest" nestled below the Civics' touchscreens. You'll be surprised at how natural it feels to rest your pointer here while navigating radio stations or punching in a destination.
Advanced Safety
The Civic Hatchback includes multiple new driver-assistive and passive safety features, including the world's first instance of Honda's all-new frontal airbags. These airbags were specifically designed to reduce the likelihood of brain injuries in frontal or head-on collisions. We expect these Honda airbags to be the new standard moving forward.
Standard across the board is a new Honda Sensing suite, which utilizes a new single-camera system to offer a wider field of view than past setups.
Traffic Jam Assist is one of those new Honda Sensing features. The camera-based system is Honda's first foray into self-driving technology. Jump on that bandwagon with the Civic Hatchback 2022 model!
Other additions include an improved Adaptive Cruise Control system and Lane Keeping Assist System, new Low-Speed Braking Control, eight new sonar sensors, and better pedestrian, cyclist and traffic sign detection.
An IIHS Top Safety Pick looks to be in the 2022 Honda Civic Hatchback's future.
Get a Quote on a Honda Civic Hatchback in Denver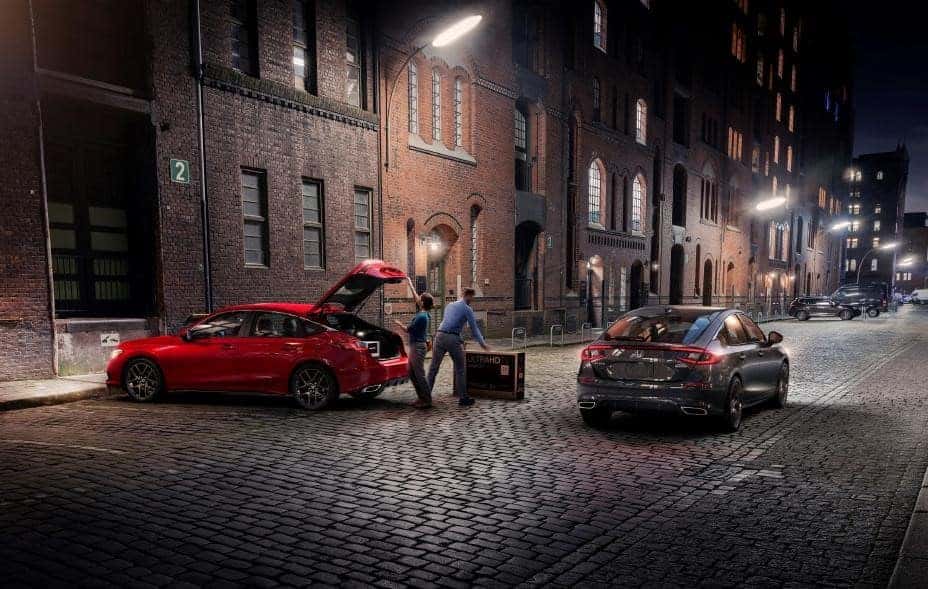 Ready to break from the crossover market and into this hot hatchback? We don't blame you. Contact our Centennial Honda dealership at (720) 636-7000 for a quote on the 2022 Civic 5-door, reserve the '22 Honda Civic, or to learn more about the Civic Hatchback's release date (sometime this summer).
Kuni Honda on Arapahoe is located at 10750 E Arapahoe Road in Centennial, CO. Our car dealership serves customers throughout the Denver region, including Aurora, Littleton, and Parker, CO. Swing by today to view our new Honda cars for lease and sale.