Congratulations! Opa! Mazel tov! Your magical marital tour is set to begin – right after decorating your car with a special "just married" sign and wedding decorations. Whether you choose traditional tin cans or something kookier, there are a few important factors to consider before plastering your car with paint, tape and stickers. Check 'em out below.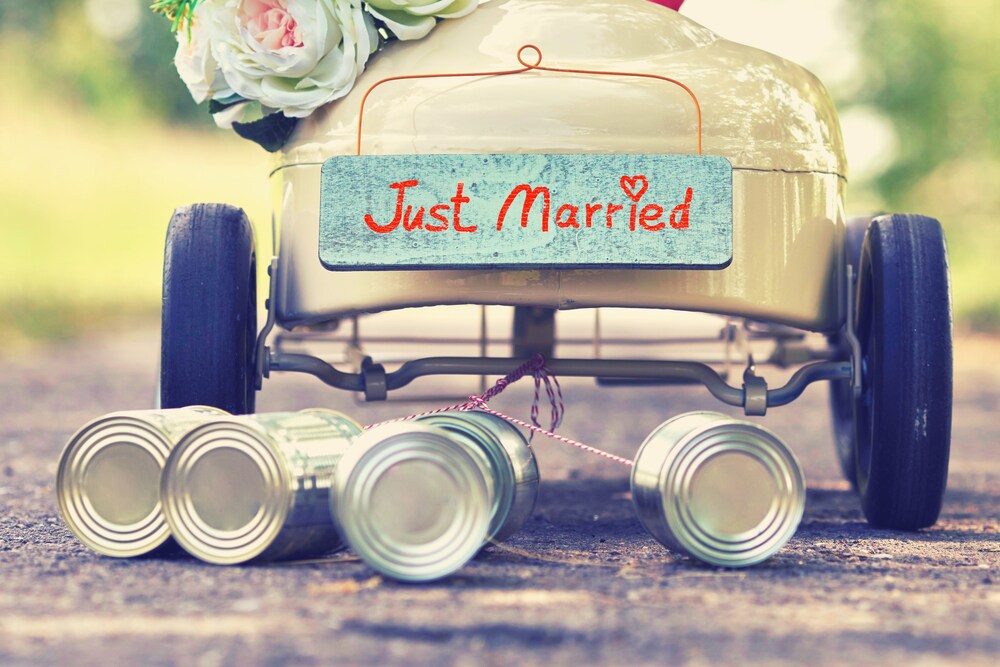 Do
· …write on windows with safe materials like bar soap, shoe polish or liquid chalk.

· …opt to tie on decorations rather than use tape or adhesive.

· …task your best man or groomsmen to decorate the vehicle (it's a tradition).

· …get prices quotes from florists and designers in your area if you're interested in a personalized flower garland, bunting, wreaths or streamers.

· …ask your guests, friends and family members to help by designing and decorating one tin can each.

· …have a grand old time and use your imagination to create a wedding getaway car that's unique and playful.

· …check with your local police department to ensure your decorations aren't going to break any laws or ordinances.

· …consider converting a pickup truck like the Honda Ridgeline into a wedding-day hayride, complete with fancy decorations.

· …get help from other members of the wedding party if you're running low on ideas or time.

· …incorporate some design elements inside the vehicle.
Don't
· …use decorations or materials that will stain or ruin the vehicle's paint, including spray paint (duh), duct tape or electrical tape, whipped cream, glue, and silly string.

· …use decorations that aren't biodegradable, like Styrofoam or plastic.

· …leave sharp edges on any tin cans, as this can be a potential hazard to other vehicles' tires.

· …attach any decoration that blocks the license plate or rearview camera.

· …cover any part of the windshield or rear window that would obstruct a driver's view.

· …decorate a rented vehicle or limo without prior authorization from the owner or rental company.

· …add any decoration that would damage another motorist or pedestrian if it detached and flew off while the vehicle is in motion.

· …dismiss fake or silk flowers, which are more resilient to the elements and heat.

· …wait until the last minute to decorate.

· …forget to stick to the wedding's overarching color scheme and theme when designing the car.
---
Shop the Perfect Wedding Vehicle at Kuni Honda
Before sliding a wedding band on his finger, slide a new Honda key fob around your keychain ring. Our Honda dealership near Denver has great summer sales on new models like the Accord and CR-V Hybrid – both of which are perfect wedding getaway vehicles.
Contact Kuni Honda at 866-983-3742 to request a contact-less test drive or purchase a new Honda online. We serve all of Aurora, Parker, Centennial and Denver, CO.