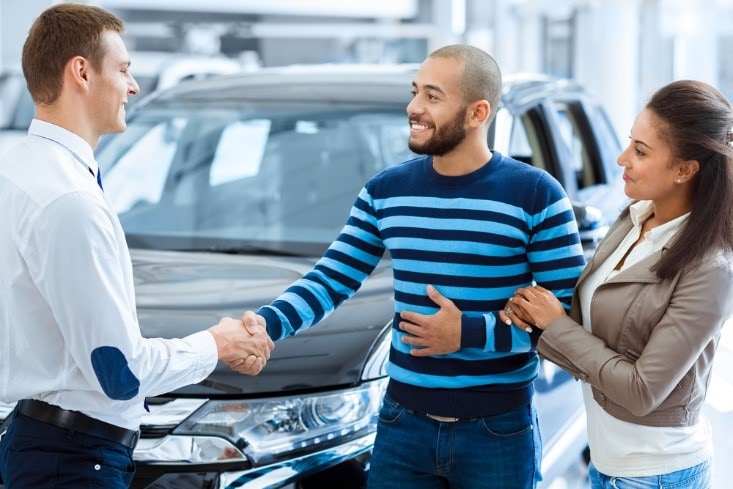 People expect and prefer the convenience of an all-internet shopping experience—it's why Amazon is Amazon. To some, Carvana's online-only business model is certainly a breath of fresh air within an industry that's steeped in tradition. On the surface, it looks like car dealerships have met their match. However, buying a car is a far more complex and nuanced task than simply adding a box of dishwasher detergent pods to your online cart.
Shopping for a vehicle is a tactile experience, much like purchasing a house or even a 400-count box of dog bones. Would you buy either one, sight unseen (or taste untasted)? Of course not. You want to walk through the home, visualize your bed against that northernmost wall, cattycorner to Grandma's antique hand-me-down dresser. You want to know Spot is going to chew the heck out of those treats. And you want to slide into the driver's seat, caress the leather-wrapped steering wheel, explore the accelerator with the ball of your foot.
The test drive is just one main reason why car dealerships are still the better option for car shoppers. Here are five others.
Carvana vs. Dealership: Which is Better?
5. Locations
Wherever you live, there's a major city with a "car row": A main street that's home to several car dealerships. In Centennial, for instance, our Honda dealership is located on Arapahoe Road, one of the busiest streets in the area. On any given day, you can come into our dealership and browse our selection. Or, if you live somewhere outside of the Denver area, you can find your own city's car row and do the same.
Carvana, on the other hand, only has an online store and sci-fi "vending machines" in select cities, like Atlanta, Charlotte and Dallas. Denver car shoppers can't enjoy the convenience of buying a used vehicle through Carvana's onsite vending machines. Instead, shoppers will need to have their vehicle delivered to their location—and pay a fee for shipping.
4. Delivery Hassles
Having your vehicle delivered to your home sounds convenient, but some Carvana customers have had bad experiences with the service. Delays are oftentimes not communicated until the day of delivery. Deliveries can take several days to several weeks, as well, and if a delay occurs at the last moment, you're left in a lurch.
Damage during transit is not uncommon, either, as third-party delivery drivers and companies are sometimes used. If this is the case, you must ship the vehicle back, rent a car, wait for an inspection and repairs, and then reschedule another delivery date. It's a process that can take weeks or even months.
Buying at your local used car lot allows you to drive home that same afternoon.
3. Undisclosed Damage
Remember: Don't just a book by its cover. Aside from delivery damage, Carvana vehicles can sometimes arrive with damage that wasn't noted in its online description or shown in photos. Carvana customers have received vehicles that were not detailed or even vacuumed and had rusted undercarriages, stained seats, bad paint jobs and general autobody damage. Although this is certainly not the typical scenario, there's always that risk.
Choosing a dealership, on the other hand, allows you to inspect and verify the condition of the vehicle before you commit to buying it. With Carvana, you must deal with the hassles and jump through loopholes to get your money back or replacement car.
2. Viability
Carvana is a great idea—in theory. In practice, however, there are questions regarding the business's long-term viability. With the incurred cost of building their vending machines, mixed with an enormous national marketing and advertising budget, Carvana appears to be operating in the red and could cease operations at any given moment. If you purchase one of their vehicles in November, and they close shop a month later, are they still obligated to abide by their "Worry Free Guarantee" should your vehicle die on the highway?
Dealerships have been around a while, and you never have to worry about being stranded in perdition.
1. Higher Costs
"No haggling" is short for "pay this or leave." Customers may assume that a no-haggle price is the best available, but it's most likely not. Carvana's pricing appears comparable to a dealer's, but at a dealership, you can haggle down for additional savings. In fact, dealerships like ours expect that you'll want to negotiate. Taking into account used car dealership specials and a newly negotiated price, you can expect to pay less by staying local. Add on a vehicle trade-in to save even more money.
---
Some traditions should remain traditions—and shopping for a car at your dealership is one of them. For Denver-area car shoppers, come to Kuni Honda for great pricing on a variety of new Honda models, certified pre-owned vehicles and used cars for sale. Contact our sales team at (720) 636-7000 or visit us at 10750 E Arapahoe Road in Centennial, CO. Enjoy a better car buying experience and purchase process at Kuni Honda!
Sources:
carvana.com/how-it-works