The average American receives just under $3,000 when they file their taxes, which is a substantial boost in cash to start the year. But, while it's true that $3k could buy a few years' worth of packaged cardboard-y noodles, spending that tax refund money on Ramen may not be the wisest decision.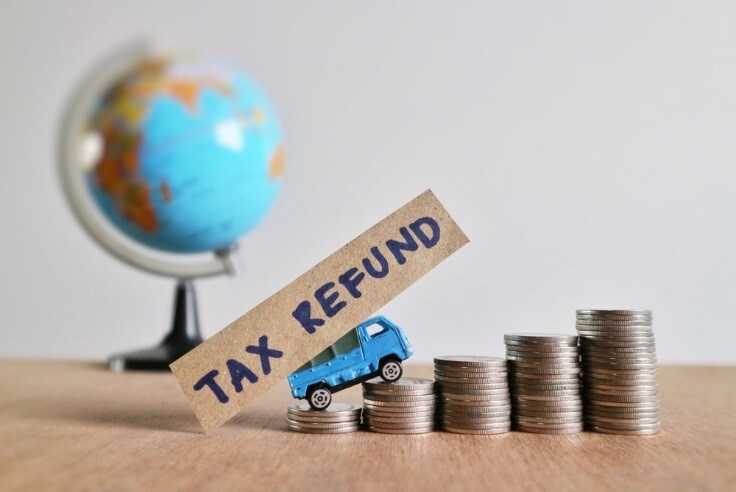 Instead of venturing down the noodle aisle with your tax-return check in hand, put that money into something more substantial and worth your while. Here are 9 smarter choices:
Tax Refund Ideas for Yourself
You've paid income taxes all year to live comfortably in your home. Now it's time to invest your tax return into that home. For a purely economical, long-term return on investment, here are the top things homeowners should do or purchase for their houses:
9. Replace old windows
Single-paned windows are immensely inefficient at regulating in-home temperatures. Double-paned windows are much better as they'll allow you to recoup up to 80% of their cost in energy savings and home value over a 20-year lifespan. Windows are expensive, so plan in advance and get multiple quotes before you decide how and where to spend your tax refund.
8. Install a new water heater
If your water heater is older than 10 years of age, it's probably reaching the end of its life expectancy. Newer models are more compact, and if you purchase a high-efficiency water heater, you may be able to deduct a portion of its cost from next year's tax return. Costs can range from a few hundred to a couple thousand dollars, but it's a wise investment.
7. Landscape
According to the experts at HGTV, adding curb appeal to your home fetches 100% of your investment on resale. A landscaped yard can be done on the cheap, too, if you have the right tools.
A truck like the Honda Ridgeline, with its highly capable truck bed, can help you get more done in a weekend's worth of dirty work. Just keep all the new landscaping tools in its in-bed trunk, then pile your mulch in Ridgeline's 4-by-8-foot lay-flat bed. The 150W/400W truck-bed outlet enables you to operate power tools away from the garage, too.
6. Insulate your garage
Replacing your garage door can increase your home's value, but finishing and insulating the entirety of your garage is a wiser investment if you aren't planning to sell. Build a new frame along the interior walls of your garage, spray foam or add installation, then drywall it up. This helps reduce cold drafts, retain more heat and reduce humidity. Insulating the garage door itself is a great idea, as well.
Tax Refund Ideas for Yourself
Why does your house deserve all the good stuff? Use your tax refund to splurge on yourself, too! Here are some ideas to make your mind, body and soul VIPs come tax season:
5. Buy a fitness tracker
If you jumped on the smartwatch bandwagon early, you were ahead of the game. If you didn't, there's still time to board that train. Use your tax refund to buy a fitness or activity tracker, like a Fitbit or Apple Watch, and start getting in shape. These bracelets can track not just steps but also calories burned, heartrate, sleep cycles and even water intake.
Add a few extra years onto your life by getting fit and subtracting some money from your tax return.
4. Get some R & R
Your mental health is equally as important as your physical wellbeing. As cheesy as it sounds, a little vacation, no matter how short, can satisfy a bad case of wanderlust and rejuvenate spirits. Take a redeye flight to someplace new, someplace you've always had on your bucket list. Or stick close to home by driving to some hip hotspot during spring break.
Road trips are best spent with friends, and friends don't want to drive cross-country in a jalopy. Consider using some of your tax refund on a new SUV, like the 2020 Honda CR-V. It offers two spacious rows of seats, enough cargo room for everyone's duffel bags and a powerful 9-speaker, 330-watt premium sound system. That means music playlists and podcasts are required.
3. Enroll in a class
The brain is a muscle; if you don't use it, you lose it. Keep flexing those synapses by enrolling in a class at your local community college or university. You'll slowly work your way up to a new degree in a field you're interested in pursuing, which may translate to a more profitable career.
Even a cooking class will keep your mind nimbler than… something that's nimble. (I should take my own advice.)
2. Buy a new mattress
Sleep does the body good. If your mattress offers inadequate support, you may toss and turn through the night, then wake up with back or neck pain; this compounds over time, until you're in agonizing pain and making an emergency call to your doctor.
Typical bedspring mattresses have an average lifespan of up to 10 years. How's yours doing?
1. Purchase a new vehicle
About 5% of American families will spend their entire tax refund on a major purchase like a vehicle. But not every vehicle gives you the best bang for the buck, so it's important to place your money on the winning car. Track estimates on vehicle resale values of popular models, and choose one that'll provide you with more cash back in five years.
The best place to start is Honda. As one of the most respected and confidence-inspiring auto brands, Honda frequently has several vehicles that make it onto KBB's Best Resale Value Awards list. Here are some of the best Honda models based on estimated resale value:
You can even pair your tax refund with a trade-in at our Honda dealership near Denver. Come visit our staff to receive a trade-in estimate and ask about our current Honda specials. Put Uncle Sam's money to good use by shopping at Kuni Honda on Arapahoe. Contact us at (720) 636-7000 to schedule a test drive.
Sources:
modernize.com/home-ideas/26994/replacement-windows-is-the-value-worth-the-cost
hgtv.com/design/real-estate/top-home-updates-that-pay-off-pictures
kbb.com/new-cars/best-resale-value-awards