If you've been putting off cleaning your garage for years, this month is a great time to give it a good spring cleaning. If you're like most Denver area residents, you probably have more free time on your hands than you know what to do with this spring, and cleaning and organizing are great ways to feel accomplished and relieve the boredom of being stuck at home.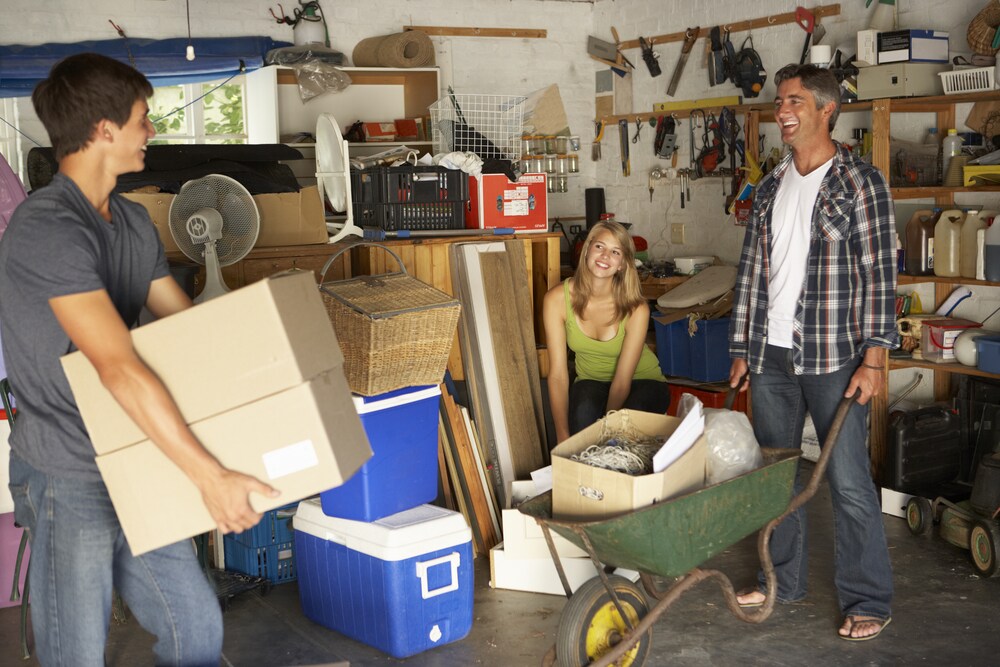 Chances are, you probably already have storage and cleaning supplies around your house, and Amazon is your best friend when it comes to getting anything you need to spruce up your garage without leaving home. Here are five helpful tips for organizing and deep cleaning your garage!
Start by Emptying Your Garage
Taking everything out of your garage is a great way to take inventory of what you have, as well as what you are keeping and need to create a place for. If the weather allows it, park your car in the street and move as many items as you can from your garage to your driveway. This way, you can sort through your items outside of the space that you are trying to clean and only bring what you are keeping back in.
Add Shelving to Increase Your Organization
By neatly organizing your items on shelves, your garage will be much easier to keep clean in the future. Choose designated storage areas for each type of item, such as tools, car supplies, and sports equipment, and order enough shelves to easily hold everything. If you're going a bit stir crazy and looking for a DIY project, you can even upcycle old shelves, boxes, and other storage items from around your house that you've been meaning to get rid of by giving them a fresh coat of paint.
Hang Large Items to Save Space
Bikes and other large items take up a lot of floor space. Installing heavy duty hooks on the ceiling or walls of your garage is a great way to make use of dead space and increase the amount of room you have on the ground for items that don't fit anywhere else. Use c-hooks, track storage, or other methods to get the most out of your space, especially if you have a smaller garage.
Don't Forget the Floor
Your garage floor probably isn't much cleaner than the ground outside, which can make it a less-than-ideal place for storing items. Start by thoroughly sweeping every corner of your garage, then use heavy duty cleaners to remove oil, paint, and other stains from the floor. Having a clean starting point consisting of a floor and shelves that are as free of stains and debris as possible before bringing anything else back into the garage is an effective way to increase the amount of time that you will need before your next deep clean.
Sell What You Don't Need
Cleaning out your garage is likely to reveal dozens of old cans of paint, tools, toys, and other items you haven't used in years. Although you won't be able to hold a garage sale in the near future, you can list anything you don't need on eBay, Mercari, and other online platforms to make some extra cash while clearing out clutter. By scheduling an at-home pickup through USPS, you can ship your items without leaving home.
Spring cleaning your garage can be an enjoyable way to pass some time before you are able to return to your normal daily schedule. If staying home has left you feeling bored and frustrated because you aren't able to accomplish many of the plans you had for this spring, working on projects around your house that you've been putting off until you had more time can be a great way to be productive this month!
Find or Take Care of the Honda that (Hopefully) Now Fits in Your Garage
Speaking of your sparkling clean garage, the Honda Dream Garage Sales Event is going on now at Kuni Honda in Centennial, CO, where you can find great deals on new Honda vehicles. Kuni Honda (a Holman Automotive dealership) is responding to the stay at home order by providing our customers with "Holman at Home" – contact-free, convenient new options for vehicle service and sales, including:
Contact-free, unaccompanied, at-home test drives and deliveries
Sales agents available to assist
Service pick-up and delivery
Service without the appointment
Complete sanitization on every vehicle
Schedule a service appointment now, or contact us at 866-983-3742 to test drive the new Honda of your dreams this spring!