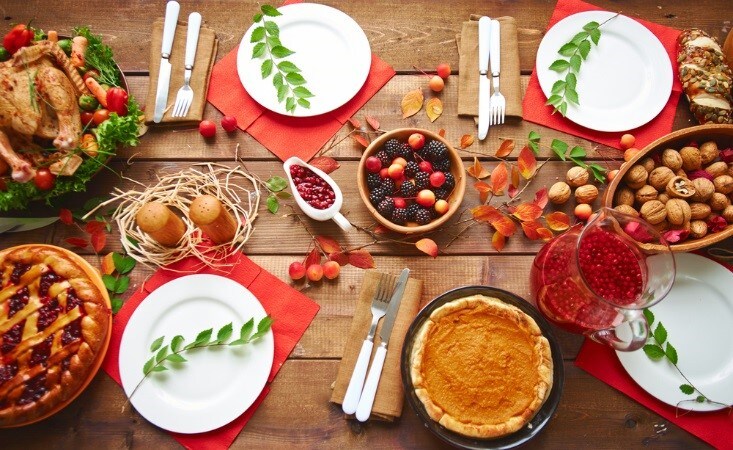 If you're like 90% of Americans, you drive to enjoy Thanksgiving dinner with family every year. Although you're not hosting, you should still feel obligated to bring a Thanksgiving dish (or two). But avoid the sloppy soups, goopy gazpacho, and spillable stews if you want to keep your CR-V stain-free. Instead, check out these simple Thanksgiving recipes for side dishes and desserts that will travel well—and taste even better.

Jump To

Cheesy Cornbread
Sweet Potato Mash with Maple & Pecan
Roasted Carrots with Lemon & Maple
Brie & Apple Tart
Banana Cake with Yogurt-Espresso Frosting
Pumpkin Seed Brittle
Thanksgiving Grape Salad
Fried Mashed Potato Balls
Sweet Potato Ginger Scones
Pumpkin Pie
Cheesy Cornbread
This Thanksgiving cornbread recipe is 100% scrumptious and 100% travel-ready. So pile it in your SUV and hit the road, Jack.
Ingredients
4 ounces Cream Cheese, room temperature
1/2 cup milk
2 eggs
1 teaspoon seasoned salt
1 (15 ounce) can corn, drained
1 (15 ounce) can creamed corn
1 (8.5 ounce) box corn bread mix
2 cups grated cheddar cheese
Instructions
Preheat oven to 375°F.
Line a 9×13 baking dish with foil and coat with nonstick spray. Set aside.
In the bowl of your stand mixer fitted with the paddle attachment mix cream cheese until smooth on medium speed.
Add in the milk, eggs, and seasoned salt and continue mixing until combined, scraping the sides of the bowl as necessary.
Turn mixer to low and mix in the corn and creamed corn.
Add the in the cornbread mix and mix until combined.
Stir in 1 cup of the grated cheese.
Pour batter into the prepared pan and sprinkle with remaining cheese.
Bake for 20-25 minutes, or until center is set.
Allow the cornbread to cool completely and cut into pieces.
Original recipe found at
cookiesandcups.com
.
Sweet Potato Mash with Maple & Pecan
You'll be everyone's favorite guest if you bring this sweet sweet potato casserole/mash for Thanksgiving. It can be served straight out of a serving bowl, and they are stiff enough to keep flat on a car ride.
Ingredients
6 tablespoons butter, divided
2 1/2 pounds sweet potatoes (3 to 4 large ones), peeled, quartered lengthwise, and cut into 1/2-inch-thick pieces
1 cup milk (not nonfat), divided
1/2 teaspoon salt
1/4 cup maple syrup
1/2 cup chopped pecans
Instructions
Melt 4 tablespoons of the butter in a large (4-quart) saucepan or other heavy-bottomed pot over medium heat.
Add the sweet potatoes, stir to coat with the butter, and sauté for about five minutes.
Add 2/3 cup of the milk and the salt, stir again to coat the sweet potatoes, then cover the pot and turn the heat down to medium-low.
Cook the sweet potatoes, uncovering the pot to stir every 5 minutes until they are very soft and beginning to fall apart — this will take about 15 minutes total. If at any point the liquid has completely evaporated or the potatoes are beginning to brown on the bottom of the pot, add a splash of water, stir, and turn the heat down a little bit. When the sweet potatoes are finished cooking, turn off the heat.
Mash the potatoes right in the pot with a potato masher. Add the final 1/3 cup of milk and whisk the sweet potatoes vigorously, until whipped and lightened in texture. Taste for seasoning, adding more salt if desired. Spoon into a serving dish.
Heat the remaining two tablespoons of butter with the maple syrup and pecans in a small skillet or saucepan over medium heat. When the mixture begins to bubble vigorously, stir and pour it over the sweet potatoes. Serve hot.
Roasted Carrots with Lemon & Maple
At only 90 calories per serving, these roasted carrots are both healthy and magically delicious. Keep them in a baking dish, covered with aluminum foil, and you won't have to worry about leaks as you drive.
Ingredients
2 1/2 lb. carrots
2 tbsp. olive oil
2 tsp. coriander seeds, crushed
Kosher salt
Pepper
2 tbsp. maple syrup
2 tbsp. lemon juice
1/2 c. fresh cilantro leaves
Instructions
Heat oven to 450°F.
Peel carrots, halve crosswise, and cut the thick ends in half lengthwise, if large.
On a large rimmed baking sheet, toss carrots with oil, coriander seeds, and 1/2 teaspoon each salt and pepper. Transfer half to a second sheet.
Reduce oven temperature to 425°F and roast, tossing after 15 minutes, until golden brown and tender, 20 to 25 minutes total.
Immediately toss hot carrots with maple syrup, then lemon juice. Serve topped with cilantro.
Original recipe found at
womansday.com
.
Brie & Apple Tart
Sweet. Sour. Creamy. Crispy. This Thanksgiving tart recipe is oh-so-yummy. Before you load it into the car for your trip, consider putting it in a Tupperware container. They're essentially fancy pizza slices, so traveling with them in the cargo area shouldn't be a problem.

Ingredients
1 sheet frozen puff pastry, thawed
8 oz. Brie, thinly sliced
1 small Golden Delicious apple, cored and thinly sliced (substitute your favorite apple)
2 tsp. honey
2 tbsp. chopped roasted, salted almonds
2 tbsp. pomegranate seeds
Instructions
Preheat oven to 400°F.
On large sheet parchment, roll pastry to 12" by 10" rectangle. Fold 1/2 inch of edges to form a rim. With fork, poke holes all over pastry sheet.
Arrange Brie in a single layer on pastry. Top with apple. Sprinkle 1/8 teaspoon each salt and pepper all over apple.
Slide everything, parchment included, onto cookie sheet. Bake 30 to 35 minutes or until deep golden brown.
Drizzle all over with honey. Garnish with almonds and pomegranate seeds.
Original recipe found at goodhousekeeping.com.

Banana Cake with Yogurt-Espresso Frosting
A classic banana bread cake with a nutrient-rich kick of buckwheat: just what the doctor ordered this Thanksgiving. It's very simple to make and even simpler to take on your trip; just keep it unsliced and unfrosted, cover it in two layers of foil, and toss it on top of your other Thanksgiving food. (You can frost it when you get to your destination.)
Ingredients
Cake
Nonstick vegetable oil spray
1 cup whole wheat flour
½ cup buckwheat flour or whole wheat flour
2 teaspoons ground cinnamon
1 teaspoon kosher salt
1 teaspoon baking soda
½ teaspoon baking powder
4 very ripe bananas
2/3 cup (packed) dark brown sugar
2 large eggs, beaten to blend
½ cup olive oil
½ cup sour cream
Frosting
4 ounces cream cheese, room temperature
½ cup plain Greek yogurt
Pinch of kosher salt
1/3 cup powdered sugar
½ teaspoon espresso powder
Instructions
Preheat oven to 350°.
Coat an 8½x4½" loaf pan with nonstick spray, then line with parchment, letting it hang over on both of the longer sides.
Whisk whole wheat flour, buckwheat flour, cinnamon, salt, baking soda, and baking powder in a medium bowl.
Mash bananas and brown sugar in a large bowl until virtually no lumps of banana remain and brown sugar is dissolved.
Mix in eggs, oil, sour cream, and dry ingredients with a rubber spatula. Scrape batter into prepared pan and smooth top.
Bake cake until the top springs back when gently pressed and a tester inserted into the center comes out clean, 55–65 minutes. Transfer pan to a wire rack and let the cake cool in pan 30 minutes. Turn out cake onto rack and let cool completely.
Frosting: Whisk cream cheese, yogurt, and salt in a large bowl until no lumps remain. Sift powdered sugar through a fine-mesh sieve into a bowl and whisk vigorously to combine, then stir in espresso powder.
Original recipe found at bonappetit.com.
Pumpkin Seed Brittle
Keep your leftover Halloween pumpkin seeds for this easy-to-make Thanksgiving brittle. This recipe makes enough for 16 people, but you'll probably munch on a few as you drive to Thanksgiving dinner, so we suggest doubling up.
Ingredients
Nonstick vegetable oil spray
1 cup sugar
1/2 cup light corn syrup
1 cup raw shelled pumpkin seeds (pepitas)
2 tablespoons unsalted butter
1 teaspoon kosher salt
3/4 teaspoon baking soda
1/3 teaspoon ground cinnamon
1/4 teaspoon flaky sea salt
Baking thermometer (optional, but recommended)
Instructions
Spray a parchment-lined baking sheet with nonstick spray; set aside.
Bring sugar, corn syrup, and 3 Tbsp. water to a boil in a medium saucepan over medium heat, stirring to dissolve sugar.
Fit saucepan with a thermometer and cook until thermometer registers 290°, 3–4 minutes.
Stir in pumpkin seeds, butter, and kosher salt and cook, stirring often, until pale brown and thermometer registers 305°, 3–4 minutes.
Stir in baking soda and cinnamon (mixture will bubble vigorously), then immediately pour the caramel onto prepared sheet. Using a heatproof spatula, quickly spread out and sprinkle with sea salt; let cool.
Break brittle into pieces and store for up to a week.
Original recipe found at bonappetit.com.
Thanksgiving Grape Salad
Just a spoonful of (brown) sugar makes the (grape salad) go down. Pecans help, too. Best of all, you can store this grape salad in any sort of container, making it incredibly easy to travel with over the holidays.
Ingredients
2 1/2 lb. Red and green seedless grapes
4 oz. cream cheese, at room temperature
1/2 c. sour cream
1/4 tsp. Kosher salt
3 tbsp. packed light brown sugar, divided
3/4 c. toasted pecans
Instructions
Halve half of the grapes.
Stir together cream cheese, sour cream, salt, and 2 tablespoons brown sugar in a bowl until sugar is dissolved. Add grapes and stir gently to coat.
Top with pecans and remaining brown sugar just before serving.
Fried Mashed Potato Balls
You had us at "fried." Originally created from Thanksgiving leftovers, these fried mashed 'tater balls are just as good with the fresh stuff. You can eat them cold as an appetizer, too. Just keep them in a cooler as you drive.
Ingredients
3 c. cooled mashed potatoes (leftover or fresh)
3 slices bacon, cooked and crumbled
2/3 c. shredded cheddar cheese
2 tbsp. thinly sliced chives
1/2 tsp. garlic powder
Kosher salt
Freshly ground black pepper
2 egg, beaten
1 1/3 c. panko bread crumbs
Instructions
In a large bowl, combine mashed potatoes with cooked bacon, cheddar, chives, and garlic powder, and season with salt and pepper. Stir until all ingredients are incorporated.
Place eggs and panko in separate shallow bowls. Use a small cookie scoop to scoop 1" to 2" balls of mashed potato mixture. Roll into a ball in your hands, then dredge first in egg and then in panko. Repeat until all mashed potatoes are used.
Heat 3" of oil in a large cast-iron skillet until candy thermometer reads 375°.
Fry potato balls in batches until golden on all sides, 2 to 3 minutes.
Drain on a paper towel-lined plate and season immediately with more salt.
Sweet Potato Ginger Scones
For the amateur baker, this Thanksgiving scone recipe should be right up your alley. Tender scones can be served as Thanksgiving dessert or as a quick Black Friday breakfast. One cooled, they can be tossed in a few gallon-sized bags for east transport.
Ingredients
5 cups (about 1 lb., 5 1/4 oz.) all-purpose flour, plus more for baking sheet
2/3 cup granulated sugar
1 1/2 tablespoons baking powder
1 teaspoon kosher salt
1/8 teaspoon grated whole nutmeg
5/8 teaspoon ground cardamom, divided
1 1/2 cups (12 oz.) very cold unsalted butter, cut into 1/2-inch pieces
1/2 cup chopped crystallized ginger
2 teaspoons lemon zest
1 cup chilled mashed roasted sweet potato
3/4 cup cold buttermilk
1/4 cup plus 2 Tbsp. heavy cream, divided
1/4 cup turbinado sugar
Instructions
Preheat oven to 400°F. Line a baking sheet with parchment paper.
Sift together flour, sugar, baking powder, salt, nutmeg, and 1/2 teaspoon of the cardamom.
Add butter; cut into the flour mixture with a pastry blender or a fork until butter pieces are the size of corn kernels.
Stir in ginger, zest.
In a small bowl, mix together sweet potatoes, buttermilk, and 1/4 cup of the cream.
Make a well in the center of the flour mixture; place sweet potato mixture in well. Working quickly, stir until dough just comes together.
Sprinkle prepared baking sheet liberally with flour. Place dough on parchment, and divide dough in half.
With floured hands, shape each dough half into a circle between 6 and 7 inches in diameter and about 1 inch thick.
Brush circles evenly with remaining 2 tablespoons cream.
Stir together turbinado sugar and remaining 1/8 teaspoon cardamom in a small bowl, and sprinkle evenly over dough circles.
Run a bread knife or bench scraper under cold water, and cut each circle into 8 wedges (like cutting a pie). Carefully pull wedges away from the center to separate them by about 3/4 inch. (Don't worry about any excess flour on your parchment paper.)
Bake on middle rack in preheated oven until golden brown and almost cooked through, about 30 minutes.
Transfer baking sheet to lowest oven rack; bake until bottoms of scones are fully cooked, about 5 minutes. Serve warm or at room temperature.
Original recipe found at southernliving.com.
Pumpkin Pie
How could we forget Thanksgiving's iconic pumpkin pie? This easy-as-pie recipe results in a surprisingly decadent, silky pumpkin filling. Cover with plastic wrap and keep it away from heavy items as you drive.
Ingredients
3 large eggs
1 cup canned pumpkin
1 cup evaporated milk
1/2 cup sugar
1/4 cup maple syrup
1 teaspoon ground cinnamon
1/2 teaspoon salt
1/2 teaspoon ground nutmeg
1/2 teaspoon maple flavoring
1/2 teaspoon vanilla extract
1 frozen deep-dish pie crust (9 inches)
Pastry for a single-crust pie (9-inches), optional
Instructions
Preheat oven to 400°.
In a large bowl, beat all ingredients until smooth; pour into pie crust. Cover edge loosely with foil.
Bake for 10 minutes at 400°.
Reduce heat to 350°; bake 40-45 minutes longer or until a knife inserted in the center comes out clean.
Remove foil. Cool on a wire rack. Garnish with whipped cream if desired.
Original recipe found at tasteofhome.com.
There are indeed tons of Thanksgiving recipes on the interwebz, but not all of them produce food that's easy to take on your holiday trip. These will.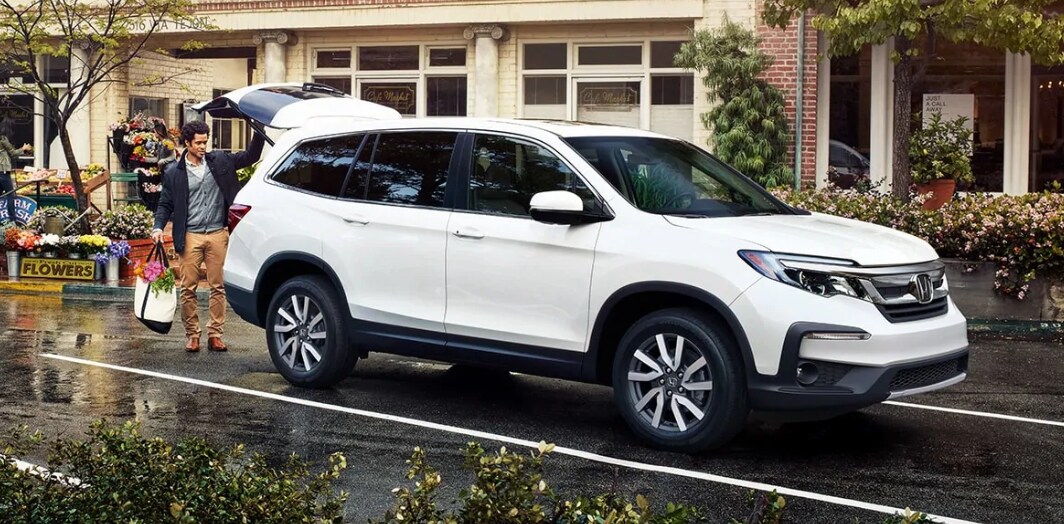 For an even simpler way to travel with food on Thanksgiving, consider buying an SUV with a spacious, versatile cargo area. What SUV, you ask? The
new 2020 Honda Pilot
comes to mind. It offers 109 cubic feet of max cargo volume, and its 60/40-split 2nd- and 3rd-row seats can fold down to accommodate everything from massive Thanksgiving turkeys to that dilapidated loveseat you're pawning off on donating to your cousin.

Sources & Photos:

automobiles.honda.com

cookiesandcups.com/creamy-cheesy-cornbread

thekitchn.com/recipe-stovetop-whipped-sweet-potatoes-with-maple-pecan-drizzle-224857

womansday.com/food-recipes/food-drinks/a24115449/lemon-maple-roasted-carrots

goodhousekeeping.com/food-recipes/a41395/best-brie-apple-tart

bonappetit.com/recipe/buckwheat-banana-cake-with-yogurt-espresso-frosting

bonappetit.com/recipe/pumpkin-seed-brittle

countryliving.com/food-drinks/recipes/a45296/grape-salad-recipe

delish.com/cooking/recipe-ideas/a22566735/fried-mashed-potato-balls-recipe

southernliving.com/recipes/sweet-potato-ginger-scones

tasteofhome.com/recipes/easy-pumpkin-pie