For some families, driving around to look at festive Christmas lights is a holiday tradition. If yours is one of those families, pile into your
Honda Passport
and take a holiday lights tour of some of the Denver area's best Christmas decorations and displays!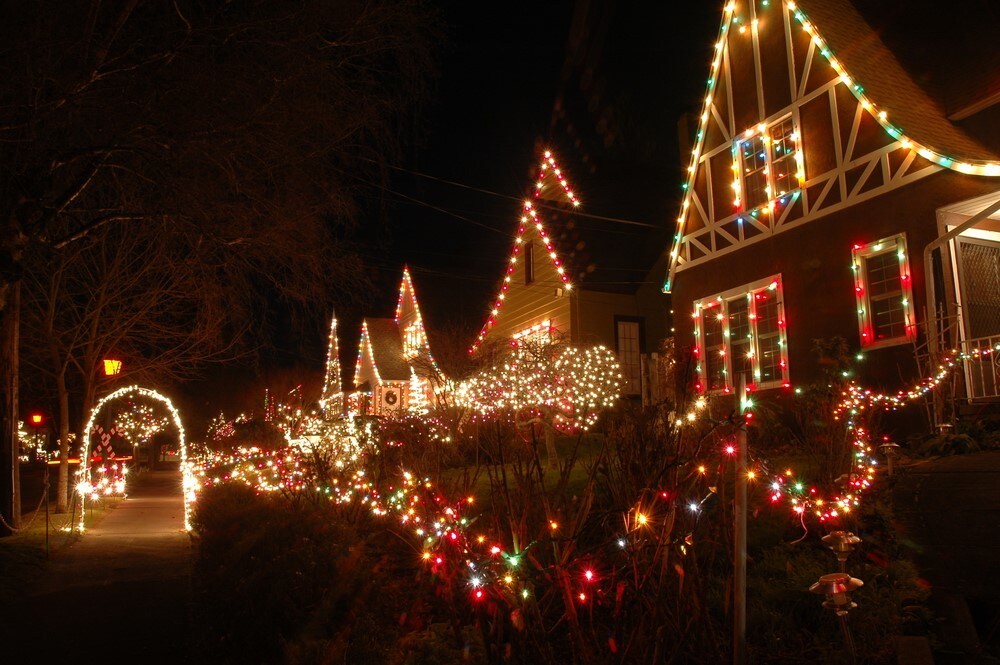 Light the Lights
Come watch Mayor Hancock light up this stunning government building during the
Light the Lights
ceremony. Then enjoy the family-friendly holiday festival at Civic Center Park.
When
: Friday, November 29th from 4:00 to 8:00 PM (the Mayor will flip the switch sometime between 6:30 and 7 PM)
Where: The City and County Building at 1437 Bannock St. and the adjacent Civic Center Park
Cost: Free

Parade of Lights
A two-mile parade filled with lights, music, and Christmas cheer sounds like a perfect family outing! The
Parade of Lights
has been sponsored by 9 News since 1975. Have a fantastic time admiring the impressively lit floats and diverse performance groups but don't forget a warm scarf and thermos of hot chocolate!
When: Friday, December 6th at 8 PM; Saturday, December 7th at 6 PM
Where: Downtown Denver from the City & County Building at 1437 Bannock Street to 14th Street at Glenarm Place
Cost: Free

Blossoms of Light
This winter wonderland spectacular at the
Denver Botanic Gardens
features a 360-degree immersive light experience. And that's just one of the amazing lighting displays you'll see! It should take less than an hour to see everything if you're in a hurry but you're welcome to linger until closing.
When: Every evening from Nov. 29th through Jan. 3rd, 5 to 9 PM (last entry at 8:30 PM)
Where: The Denver Botanic Gardens at 1007 York Street
Cost: $14-$19 for members, $16-$21 for non-members (children 2 and under enjoy it for free)
*If tickets aren't sold out by 5 PM, prices increase by $5 each.

Mile High Tree
This 110-foot-tall art piece puts on a dazzling show full of lights and music every half hour each evening. Enjoy the performance from within the
Mile High Tree
for a truly immersive experience!
When: Nov 30th through Jan 31st from 5:00 to 10:30 PM
Where: The Sculpture Park at the Denver Performing Arts Complex, 1400 Curtis Street
Cost: Free

Night Lights Denver
This '
illuminating' art installation
features a rotating selection of designs by local artists and community members. View the ever-changing display from the Arapahoe Street side of the Tower.
When: Thursday through Saturday evenings from Nov. 7th through Jan. 31st
Where: Daniels & Fisher Tower, 1601 Arapahoe St.
Cost: Free

Zoo Lights
Enjoy Denver's wildest light display when 80 acres of the
Denver Zoo
grounds sparkle with over two million lights! Get your tickets soon because this spectacular event sells out every year. Keep an eye open for the lit animal sculptures all over the grounds, swinging through the trees and hiding behind bushes where you least expect them!
When: Evenings from November 29th to December 30th (5:30 - 8:30 PM)
Where: The Denver Zoo at 2300 Steele St.
Cost: $15 – $20 (plus zoo admission).

Christmas Lights in Centennial
Don't miss the lighting of the grand Christmas tree in the charming town of
Centennial
in the south metro Denver area. Get into the Christmas spirit with music and dance performances while enjoying your free cookies and hot chocolate.
When: Saturday, November 16th from 3:00 to 5:00 PM
Where: Centennial Center Park, 13050 E. Peakview Ave.
Cost: Free
Olde Golden Christmas in Golden
Enjoy nostalgic memories and traditional family values at Golden's annual small-town holiday celebration known as an
Olde Golden Christmas
. This city-wide celebration lasts throughout the holiday season! Don't miss the Saturday parades while you're enjoying the lights that make the entire historic district sparkle.
When: Nov. 30th to Dec. 31th
Where: The whole city takes part!
Cost: Free

Santa's Village at Chatfield Farms In Littleton
Enjoy the gorgeous lights plus a visit with Santa and his reindeer, crafts with Mrs. Claus, and a hayride during this family-friendly event at
Chatfield Farms
. Discount packs of 4 tickets are available by calling 720-865-3500.
When: Fridays, Saturdays & Sundays from Nov. 29 – Dec. 15, 4:30-8:30 PM (last entry at 7:30 p.m.); open nightly from Dec. 16th through the 22nd
Where: Denver Botanic Gardens at Chatfield Farms, 8500 W. Deer Creek Canyon Road
Cost: $20 each for adults or children ages 3-15 ($15 if a member of the Botanic Gardens, in the military, or 65+ years)

The Mayor's Holiday Lighting Ceremony in Parker
Join in for a Silent Night singalong, then watch as the Mayor and the Town Council count down the seconds until the town's
Christmas tree
and Gazebo light up an enchanting winter wonderland! Enjoy the ice sculptures and listen to stories and songs or participate in activities along the way.
When: Friday, Nov. 29th, 5:30 to 7 PM
Where: O'Brien Park
Cost: Free
If these Christmas light displays aren't enough, check out the Denver Post's
Holiday Lights Map
. Once it fills with locations, you can map your route, load your new
Honda CR-V
with friends and family, and get enough Christmas lights and holiday cheer to last until next Christmas!
Happy Honda Days from Kuni Honda
Everyone's favorite time of year is upon us: Happy Honda Days! Our holiday sales event is going on now, so swing by our
Centennial Honda dealership
to browse our selection and take a test drive in an all-new Passport,
Honda HR-V
, or an
Odyssey minivan
. With any luck, you'll have the perfect vehicle to gift yourself this Christmas.
For more details about our
Happy Honda Days sales event in Denver
, contact a Kuni Honda salesperson at (720) 636-7000. We serve drivers throughout the Denver area, including Parker, Littleton, and Aurora.


Sources:
https://www.denvervacationtips.com/christmas-lights-in-denver.html
https://www.denver.org/milehighholidays/explore-the-holidays/lights-extravaganzas/
https://www.colorado.com/articles/colorado-festivals-holiday-lighti
https://www.facebook.com/events/1333229626838932/
https://www.denver.org/event/9news-parade-of-lights/71750/
https://www.botanicgardens.org/events/special-events/blossoms-light
https://www.denver.org/event/mile-high-tree/74376/
https://www.denver.org/event/night-lights-denver/73959/
https://www.denverzoo.org/events/zoolights/
https://www.centennialco.gov/Residents/Get-Involved/Community-Events/Centennial-Holiday-Celebration
https://www.visitgolden.com/olde-golden-christmas/
https://www.botanicgardens.org/events/special-events/santas-village-chatfield-farms
http://www.parkeronline.org/172/Mayors-Holiday-Lighting
https://extras.denverpost.com/holiday-lights/index.html