Ready for another fantastic July Fourth in Denver? We feel you. Our 4th of July blog last year went off like gangbusters, so we thought we'd explore a few more popular fireworks-viewing spots in Denver. In addition to the 2018 Independence Day events returning this year, residents in Aurora, Littleton, and Centennial will also have access to the following holiday fireworks displays.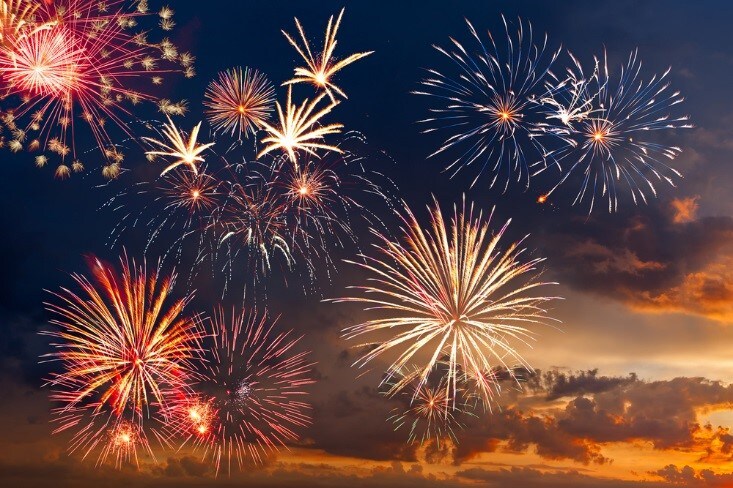 Green Valley Ranch Firework Spectacular
When: July 4 (6 PM)
Where: Green Valley Ranch Golf Club (Denver, CO)
Free to the public, this Denver 4th of July event will feature live music from Dotsero and Dr. Kool and the Disco Divas, kid-friendly activities, games, food and beer, and one of the largest fireworks displays in Denver. Because public parking is forbidden at the golf course, complimentary shuttle transportation will be provided at multiple locations throughout the evening. Visit the event website for shuttle stops, times, and road detour details.
Colorado 4th of July Sparkler & Fireworks
When: July 4 (dusk)
Where: Aurora Sports Park/Christopher Complex (Aurora, CO)
Independence Day fireworks will go off over the Christopher Complex on July 4. This also kicks off the elimination rounds of the 50th annual TCS Fireworks Tournament, which will pit softball teams of teens and young adults against each other, all vying for their division's trophy. All-access gate passes for the Fastpitch tourney and Aurora fireworks display can be purchased online.
Arvada 4th of July Fireworks Display
When: July 4 (7 PM)
Where: Stenger Sports Complex (Arvada, CO)
Head north of our Centennial Honda dealership to see Arvada's premier July 4th fireworks at the Stenger Sports Complex. Gates open at 7:00 and fireworks will go off at dusk (around 9 PM). Parking and admission to the event are free to the public. Make it an evening with the family -- bring blankets, lawn chairs, and even a small propane grill! Check the official Arvada fireworks events page for more details.
Colorado Rockies vs. Houston Astros
When: July 3 (6:10 PM)
Where: Coors Field (Denver, CO)
Celebrate Independence Day early with thousands of fellow Rockies fans at Coors Field. After the final pitch, the crowd will be in for a treat as the Rockies' legendary fireworks display lights up Denver's sky. Tickets begin at $45; the stadium fills up fast, so be sure to purchase your family's tickets ASAP.
Celebrate 4th of July at Waneka Lake
When: July 4 (4:30 PM)
Where: Waneka Lake (Lafayette, CO)
Head north of Denver to celebrate the Fourth of July in style at Waneka Lake. Free to the public, this Lafayette Independence Day festival offers face painting, bounce houses, bungee trampolines, food, beer and wine, and a live performance by Chris Daniels and the Kings. At dusk, the Lafayette July 4th fireworks fly high! Read more about this annual holiday event
here
.
Fourth of July in Thornton
When: July 4 (4 PM)
Where: Carpenter Park Fields (Thornton, CO)
The Thornton Community Band, with guests The Independence Day Festival Chorus, open this yearly July 4th event in Thornton with live music. At 7:30, the Kory Brunson Band takes the stage. Before the "FANTABULOUS Red, White & BOOM!" fireworks show commences, enjoy the Nighttime Parachutists Jump perform. For more event details, head to the City of Thornton site.
Fourth of July Celebration and Fireworks in Louisville, CO
When: July 4 (6 PM)
Where: Coal Creek Golf Course (Louisville, CO)
The free 4th of July party is a community favorite each year. Before the fireworks begin, visitors will enjoy live music by the Boulder Concert Band, food from local food trucks, inflatable rides, face painting, balloon art, and more. Complimentary shuttles run through the Louisville Recreation Center and Home Depot lots from 6 to 11 PM. Review other details about these Independence Day festivities
here
.

Special July 4th Deals on at Kuni Honda
Get more bang for your buck this Fourth of July by shopping at Kuni Honda. Being one of the most trusted car dealers in Denver, we proudly have amazing used car prices and Honda special offers available on select models all summer long! Explore our selection of new Honda models and pre-owned vehicles, and refresh our manager's car specials for up-to-the-date deals. Give our Centennial Honda sales team a call at (720) 636-7000 for assistance or to discuss your finance and lease options. Happy July 4th!
http://www.gvrcoconcerts.com/july-4-event
https://www.cosparkfire.com/fireworks.html
https://arvada.org/explore/culture-and-community/fourth-of-july
https://www.mlb.com/rockies/schedule/2019-07
https://denver.kidsoutandabout.com/content/celebrate-4th-july
https://www.cityofthornton.net/festivals-events/Pages/july-fourth.aspx
http://www.louisvilleco.gov/Home/Components/Calendar/Event/21924/68