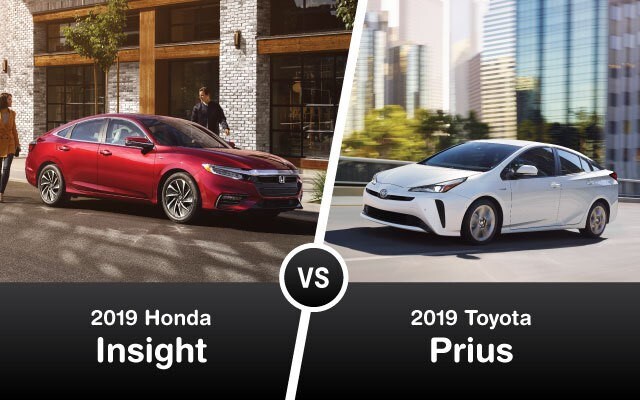 If you read our full review of the 2019 Honda Insight, you're aware that our Insight-loving heart is proudly worn on our sleeve. And how could we not? The new Insight is a practical, efficient, incognito hybrid car that makes you question everything you think you know about hybrid cars.
Of course, being a Honda dealership serving Denver, our heart is overflowing with bias. So, in an effort to remain impartial, we asked a friend of ours to write up this "Honda Insight vs. Toyota Prius" comparison. Everyone, please welcome Juni Gonda, Kuni Honda's guest blogger, to the keyboard.
[Hold for applause]
Thank you for the kind introduction and even kinder reception. I normally start these things with a joke, but I figure you just want to get to the meat and potatoes. So, without further ado, I present you my fair and balanced report on the differences between the Toyota Prius and Honda Insight.

Insight vs. Prius: Safety
Recognized as 2019's Green Car of the Year, the all-new Honda Insight is incredibly safe. In fact, it's one of the only small hybrid cars to earn an IIHS Top Safety Pick+ award. Standard on every Honda Insight are Honda Sensing features like LED DRL headlights, Forward Collision Warning, Lane Departure Warning, Collision Mitigation Braking, Road Departure Mitigation, Lane Keeping Assist, Adaptive Cruise Control with Low-Speed Follow, and Traffic Sign Recognition. (Honda LaneWatch is standard on Insight EX and Touring trims.)
The Prius, which did earn a Top Safety Pick (note the lack of a "+"), comes standard with Toyota Safety Sense P. However, you need to upgrade to higher Prius trims to take advantage of features like Blind Spot Monitor and several additional safety systems or technology.
Winner: Honda. The Insight offers more in its standard safety package, as well as exclusive features like Traffic Sign Recognition and SmartVent® Side Airbags.


Insight vs. Prius: Price
The 2019 Honda Insight LX, the model's base trim, has a starting price of $22,930. The range-topping Insight Touring has an MSRP of $28,190.
The base 2019 Toyota Prius L Eco has an MSRP of $23,770, and its top-line Limited model is priced at $32,200.
Winner: Honda. The Insight can be purchased for anywhere between $780 and $4,010 less than a comparably equipped Toyota Prius (retail). Check our selection of affordable Honda Insight cars for sale.


Insight vs. Prius: Trims
Three trims are offered with the new Honda Insight: LX, EX, and Touring.
The Toyota Prius hatch is available as an L Eco, LE, XLE, Limited, LE AWD-e, and XLE AWD-e.
Winner: Toyota. If you like options, the Prius has 6 different models from which to choose. However, it could be argued that fewer trim options mean more standard features at the bottom of the lineup, which would give the category win to the Honda Insight. To each their own.


Insight vs. Prius: Fuel Economy
The Honda Insight LX and EX return 55 mpg in the city and 49 mpg on the highway, for a combined 52 mpg. (The Insight Touring returns 51 city/45 highway mpg.)
The Toyota Prius gets 54 mpg in the city and 50 mpg on the highway, also for a combined 52 mpg. (Prius L Eco returns a combined 56 mpg and the Prius LE AWD-E and XLE AWD-E models return a combined 50 mpg.)
Winner: Toss-up. While the Insight gets +1 mpg in the city, the Prius gets +1 on the highway. The difference in total annual fuel savings is negligible.


Insight vs. Prius: Interior Dimensions
· Front/rear shoulder room – The Honda Insight offers 56.9 inches of shoulder room in the front and 55 inches in the back; the Toyota Prius provides 55 inches in the front and 53 inches in the rear.
· Front/rear headroom – You'll find the Insight offers 39.3 inches in front and 36.9 inches in back, just slightly less than the Prius's 39.4 inches and 37.4 inches of front and rear headroom, respectively.
· Front/rear hip room – Splitting wins, the Insight's 53.7 inches of front hip room beats the Prius's 53.4 inches, while Toyota's hybrid takes the prize for rear hip room (51.9 inches vs. 47.3 inches).
· Front/rear legroom – The Insight offers more overall legroom than the Prius, with 37.4 inches in the rear compared to the Prius's 33.4 inches.
Winner: Honda. Overall, the Honda Insight offers comparable front headroom and more shoulder room, front hip room, and total legroom.


Insight vs. Prius: Cargo Space
Built to mimic the appealing style of a sedan, the 2019 Honda Insight offers 15.1 cubic feet of trunk space, which is equal to the cargo space available in its cousin the Honda Civic.
The Toyota Prius is a hatch, which means it utilizes its cargo area better – in this case, its 27.4-cu.-ft. cargo volume is better than the Insight's trunk.
Winner: Toyota. The hatchback design allows the Prius to hold more in the cargo area, though it does eat into valuable passenger space (see below)


Insight vs. Prius: Passenger Volume
When it comes to room for passengers, the Honda Insight takes the cake. It offers 97.6 cubic feet of space compared to the 93.1 cu. ft. in the stuffy Toyota Prius.
Winner: Honda. The Insight is the friendlier option when you've got 5 passengers to haul around.


Insight vs. Prius: Touchscreen and Infotainment
The Honda Insight's dash seems tastefully familiar – it's based on the award-winning Honda Civic – and features one of Honda's most intuitive touchscreens. The display is incredibly responsive, firing up in just 12 seconds from engine-start. Digital controls mingle well with manual knobs, and the infotainment system integrates with Apple CarPlay and Android Auto flawlessly.
Toyota does have a handful of unique features up front, like a color heads-up display and a large 11.6-inch touchscreen, but there are some misses in its tech offerings. For instance, the Prius's infotainment system does not integrate with either Apple CarPlay or Android Auto, and it's quite slow to respond upon engine-start. And although the screen in the Prius is larger than that of the Insight, an argument can be made that it's a distraction.
Winner: Honda. The Insight's display is more responsive and its infotainment system offers an intuitive layout that the Prius can't match.
As you can see, the new Honda Insight checks a few more boxes in this Insight vs. Prius comparison. The Insight offers more passenger space, has a lower price point, and is the safest hybrid car in the United States. If you love the styling of a Civic or Accord, the Insight will feel right at home, too. Seems like a winner to me. Thanks for listening. Juni Gonda, over and out.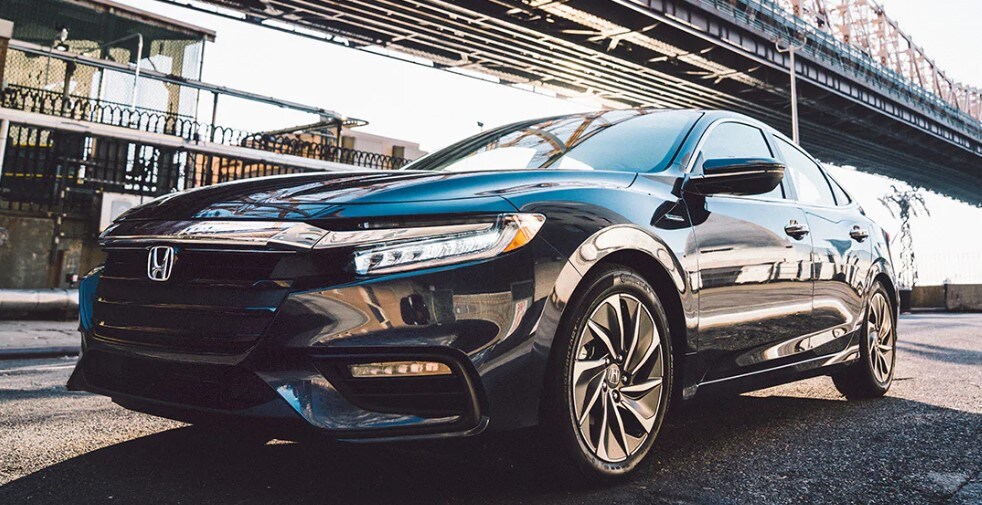 Test Drive a Honda Insight in Denver
Thanks, Juni. Glad we can both agree that the 2019 Honda Insight is the best hybrid car since sliced bread.
Readers, if you'd like to get to know the Insight better, head to a Honda dealership near you to take it for a test drive. And if you happen to be shopping for hybrid cars in Denver, come to Kuni Honda on Arapahoe in Centennial, CO. We're located at 10750 E Arapahoe Rd and have great sales on the Honda Insight and many other new Honda models. Contact our auto sales team at (720) 636-7000 to schedule a test drive or discuss your Honda loan or lease options.
Sources & Photos:
https://www.toyota.com/prius/
https://www.iihs.org/ratings/top-safety-picks
https://automobiles.honda.com/insight
https://greencarjournal.com/auto-shows/honda-insight-says-game-on-prius/
https://www.motortrend.com/cars/honda/insight/2019/2019-toyota-prius-2019-honda-insight-hybrid-comparison-review/