For some, October means pumpkin spice lattes and wholesome fall festivals. For other, braver souls, the thought of being terrified enough to scream bloody murder is a much more Halloween-y activity. So, where can you find the best haunted houses in Denver? Here are our picks for the 10 scariest haunted attractions in the area.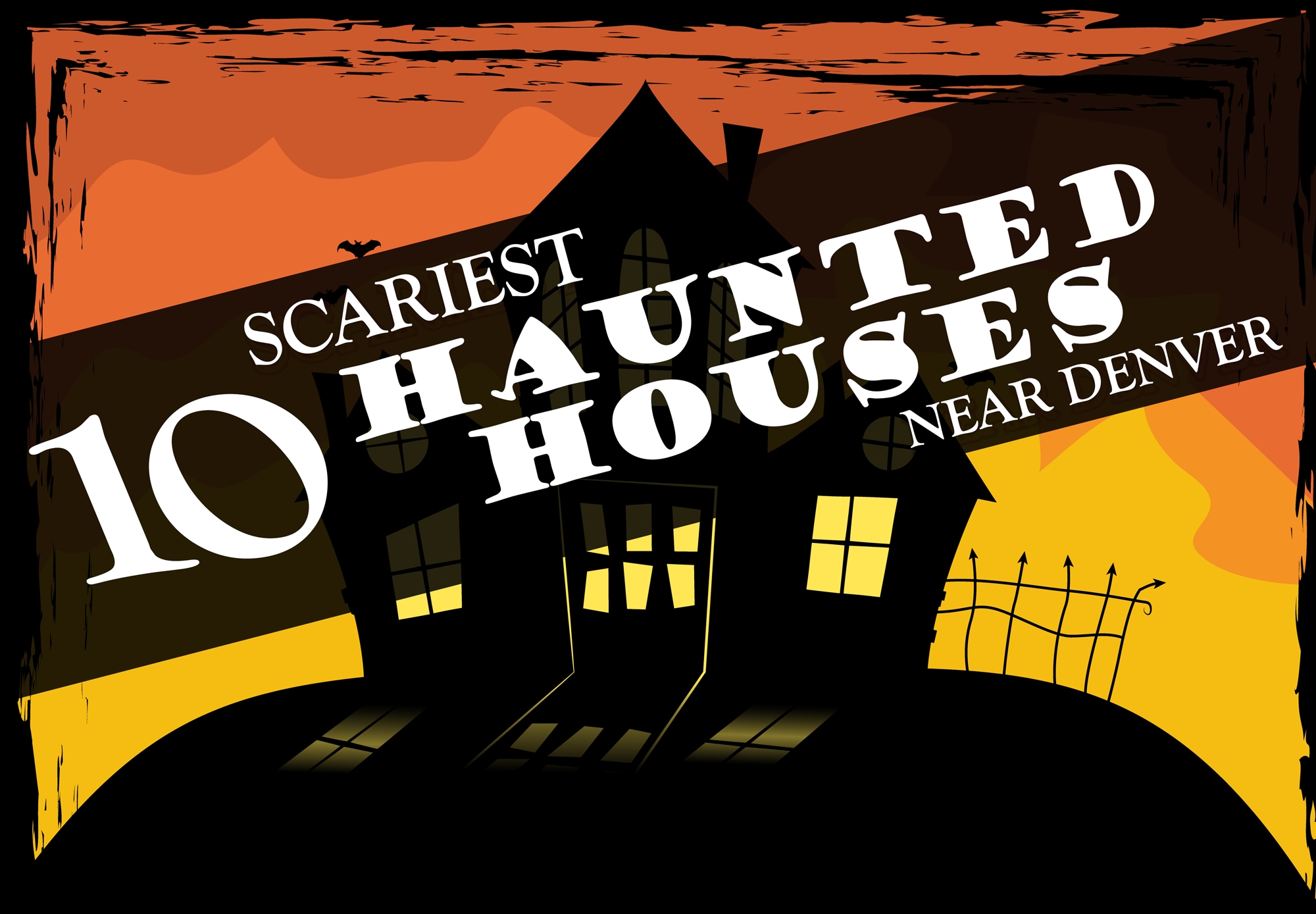 Asylum & City of the Dead
Cost: $20 - $35
Ages: 13+
Location: 7007 E 88th Ave (Henderson, CO)
Dates: Through November 3, 2018
Details: City of the Dead and Asylum have combined forces to create one spook-tacular haunted house under one roof. Deranged patients and hordes of undead roam the halls and grounds looking for new victims. Don't let them nab you! Visit www.asylumdenver.com or www.cityofthedeadhaunt.com for more information or to buy tickets.
13th Floor Haunted House
Cost: $20 - $35
Ages: 13+
Location: 3400 E. 52nd Ave (Denver, CO)
Dates: Through November 10, 2018
Details: The legend of the 13th Floor continues this Halloween with bigger and better scares. Attractions include Mini Escape Games, a creepy Half Alive bio-engineer facility, an organ-harvesting Trick or Treat haunt, and "The Possession," which should scare the socks off avid ghost-hunters. Head to 13thfloorhauntedhouse.com for additional details.
Dark Side of the Abbey
Cost: $15 - $25
Ages: 13+
Location: Holy Cross Abbey (Canon, City, CO)
Dates: Select dates through October 31, 2018
Details: Witness the horrors unfold in the darkness below Abbey monastery in Canon City. Two nightmarish attractions—the Dark Side and Dark Side Unplugged—will leave you forever fearful of abandoned buildings. Buy tickets or read more about the history of Holy Cross Abbey at darksideoftheabbey.com.
Elitch Gardens
Cost: $15+
Ages: All Ages
Location: 2000 Elitch Cir (Denver, CO)
Dates: Through October 28, 2018
Details: Two great Fright Fest events available throughout October at Elitch Gardens: one for families and the other for older kids and adults. During the day, KiddieLand features karaoke, coloring, costume contests, and more. Once the sun goes down (8 pm), Fright by Night begins! Recommended for kids over the age of 12, this Halloween activity includes a "freak show" circus, paranormal seances, frightening rides, and wandering ghouls and ghosts. Read more about this Denver tradition by visiting the Elitch Gardens site.
The Frightmare Compound
Cost: $28+
Ages: 13+
Location: 10798 Yukon St (Westminster, CO)
Dates: Through November 3, 2018
Details: Once the sun sets, the Frightmare Compound's barn comes alive with the undead. Recognized as one of the best haunted houses near Denver, Frightmare leaves no stone unturned when it comes to scares. The Westminster Clown House is a new level of terror that even Stephen King wouldn't want to touch, and when the lights go out, you're on your own. Settled on a haunted swampland, the Frightmare Compound may drag you into the bogs of hell. Head to www.thefrightmarecompound.com to grab tickets.
Haunted Field of Screams
Cost: $40+
Ages: 13+
Location: 10457 McKay Rd (Thornton, CO)
Dates: Select dates through October 31, 2018
Details: Offering 30 acres of scares, the largest haunted house in Colorado is now open! Featuring 4 frightfully fantastic haunted attractions—including Condemned, Zombie Paintball Massacre, Dead Man's Maze, and CarnEvil—Field of Screams is not for the faint of heart. If you've got what it takes, try all 4 out. Just remember: you can run but you can't hide from the haunted field's tortured souls. Check out hauntedfieldofscreams.com for additional details or to purchase group tickets.
Terror in the Corn
Cost: $27+
Ages: 10+
Location: 6728 County Rd 3 (Erie, CO)
Dates: Select dates through October 31, 2018
Details: Hosted at Anderson Farms in Erie, Terror in the Corn puts a twist on the traditional corn maze—by adding a good dash of fright into the mix. Plus, The Zombie Apocalypse paintballing hunt is a great family-friendly escape from the in-your-face scares. Visit terrorinthecorn.com for more information about either haunted attraction.
Scream Acres
Cost: $ 23+
Ages: 10+
Location: 20861 CR 33 (LaSalle, CO)
Dates: Through October 31, 2018
Details: Another farm has gotten into the haunted house arena—this time Fritzler Farm Park—and its Halloween events include Ghost Haunts, nighttime paintballing, a frightful corn maze, and the standard Scream Acres attractions. Younger kids can enjoy the less-terrifying daytime activities, including a Pillow Jump and Pedal Go-Karts, while older kids and adults can get their share of Halloween scares once the moon comes out. Visit the Scream Acres site for additional info.
Dead Zone Scream Park
Cost: $28+
Ages: 13+
Location: 8500 West Deer Creek Canyon Rd (Littleton, CO)
Dates: Through October 28, 2018
Details: Head to the Denver Botanic Gardens in Littleton to get your scare on this Halloween. Featuring one of the state's only Scream Parks, Dead Zone has hundreds of acres of haunted attractions. But beware! Corn Stalkers—aka. "The Krow"—roam freely in the corn mazes, looking to harvest organs and souls. The only safe space in Dead Zone is on the hay bales overlooking the Fear Flicks movie screen. Purchase your tickets online at www.deadzonescreampark.com.
Hell's Trail
Cost: $15 - $25
Ages: 10+
Location: 40320 Olson Rd (Avondale, CO)
Dates: Through October 27, 2018
Details: Featuring a 1-mile trail of spine-tingling, blood-curdling, goosebumps-giving terrors, this Pueblo haunted attraction has been scaring the pants off guests for over 13 years. Don't blink or you might miss the way back to safety. Learn how evil is real by venturing into the Hell's Trail website for additional details.
Special Halloween Discounts on New Honda Models At Kuni Honda
With Honda specials so affordable they're scary, Kuni Honda is proud to be Denver's source for new car deals this Halloween. Whether you need help finding a quality used Honda or a new SUV like the CR-V, our Centennial Honda dealership is here to guide you. Contact our sales team at (720) 636-7000 to discuss our current Honda finance specials or lease offers, or simply swing by our Centennial car dealership at 10750 E Arapahoe Road to take a test drive.
Happy Halloween!
Sources:
https://www.cityofthedeadhaunt.com/
https://www.13thfloorhauntedhouse.com/
http://darksideoftheabbey.com/
https://www.elitchgardens.com/fright-fest/
https://www.thefrightmarecompound.com/
https://hauntedfieldofscreams.com
https://www.fritzlerfarmpark.com/scream-acres
https://www.deadzonescreampark.com/
http://www.hellstrail.com/