*Looking for 2019 4th of July fireworks in Centennial? Read our updated 2019 Independence Day blog.*
What's going on in Centennial this Independence Day? Fireworks, fireworks, and even more fireworks! If you need something to occupy your time this Fourth of July, look no further than one of these 8 great holiday events. From Denver to Aurora to Littleton, Colorado is jampacked with pyrotechnic-themed excitement this July 4th.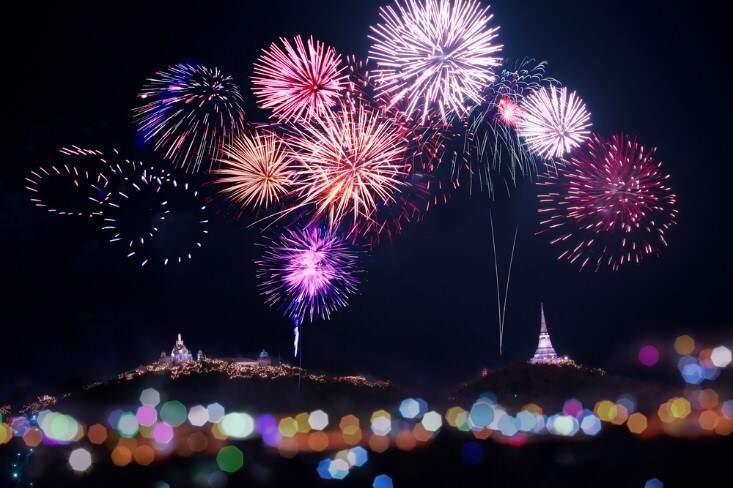 Castle Rock's 4th of July Fireworks
When: July 4 (9:30 PM)
Where: Red Hawk Golf Course (or anywhere in Castle Rock, CO)
Website: crgov.com
The 15-minute fireworks show in Castle Rock begins at 9:30, and you can view them from just about any location around town, including Metzler Ranch, the Wolfensberger Bridge, and Plum Creek. Set up shop in the backyard or on the front patio, and end your Wednesday with some fantastic July 4th fireworks.
3rd of July Red, White + You in Littleton
When: July 3 (5 – 10 PM)
Where: Clement Park (Littleton, CO)
Website: ifoothills.org
This free holiday event in Littleton features a beer and wine garden, bounce houses, family-friendly entertainment, activities, and food provided by local vendors. Rain or shine, the night's fireworks go off once the sun sets, ringing in July 4th with a BANG!
4th of July Festival & Fireworks in Englewood
When: July 4 (3 – 10 PM)
Where: Cornerstone Park & Belleview Park (Englewood, CO)
Website: englewoodco.gov
Englewood's 4th of July party—which is split between the Cornerstone and Belleview Parks—gets underway at 3 PM. Food trucks will sling their deliciousness all afternoon, and kids can partake in activities or wiggle and groove to live music performed by Dragondeer on the grassy dance floor. Traditional Independence Day fireworks will be launched at 9:30.
Parker's Stars & Stripes Celebration
When: July 4 (6 – 10 PM)
Where: Salisbury Park (Parker, CO)
Website: parkeronline.org
Tons of activities will be available at this Parker July 4th party, including free bounce houses, the enormous Jacob's Ladder slide, face painting, train rides for toddlers, and live music. To end the night on a perfect note, grab a seat on the Ball Field, look up, and let your pupils take in the biggest fireworks show in Parker.
July Fourth Fireworks at Elitch Gardens Water Park
When: July 4 (~10 PM)
Where: Elitch Gardens (Denver, CO)
Website: elitchgardens.com
Spend your Independence Day at Denver's only downtown theme and water park. Hit up the roller coasters and water slides, take in the sights from the 100-foot-tall Ferris wheel, or simply relax in your private poolside cabana. Around closing time, the 4th of July fireworks begin!
Independence Eve 2018
When: July 3 (8 PM)
Where: Civic Center Park (Denver, CO)
Website: civiccenterconservancy.org
Now in its 9th year, this 2018 Independence Day event in Denver features a live performance by Chris Daniels and the Kings, a light show, food trucks, two beer and wine gardens, and pre-July 4th fireworks when the sky goes dim. Seating can be difficult to get, so we recommend arriving early, lawn chairs and blankets at the ready.
July 4th Celebration at Highland Heritage Regional Park
When: July 4 (4 – 10 PM)
Where: Highland Heritage Regional Park (Highlands Ranch, CO)
Website: hrcaonline.org
You may head to Heritage Park for the amazing fireworks, but there's so much more to do at this year's July 4th Celebration in Highlands Ranch! Here's what to expect:
Music by Coverado, The Drones Band, and No Visible Flaws (all night}

Hot Dog Eating Contest (5:30)

Henna booths

Balloon animals

"Eurobungee"

Face painting

Inflatables

Kiddie rides

?

Soccer fields and amphitheater access
Fourth of July Spectacular in Aurora
When: July 4 (6 – 10 PM)
Where: Aurora Municipal Center (Aurora, CO)
Website: auroragov.org
Known to launch some of the best Independence Day fireworks in Colorado, this Aurora 4th of July event is a must-visit for anyone new to the area. Of course, with the fireworks being so incredibly incredible, they can be viewed across town! If you'd rather avoid the crowds and keep your July Fourth low-key this year, take a look at this map for the best spots to see Aurora fireworks.

Grab Your New Summer Ride at Kuni Honda
Don't let your 4th of July fizzle out along with the final firework! Explore Kuni Honda's selection of new Hondas for sale, including the fantastic new Ridgeline and Odyssey, and you're guaranteed to enjoy the entire summer. Browse our Honda special offers, too, and save big on whichever new Honda floats your boat. Contact our Honda dealership in Centennial, CO, at (720) 636-7000 or visit our sales team at 10750 E Arapahoe Road to start test driving.
Sources:
http://www.englewoodco.gov/arts-culture/events/4th-of-july-festival-fireworks
http://www.ourparkercolorado.com/4th-of-july-celebration-parker-co-let-freedom-sing/
http://www.parkeronline.org/1102/Parker-Stars-and-Stripes-Celebration
https://www.auroragov.org/things_to_do/events/fourth_of_july_spectacular
https://hrcaonline.org/about-us/guides-communication/calendar-schedules/event-detail/july-4th-celebration-60
http://www.civiccenterconservancy.org/event-independence-eve-2015_75.html
https://www.elitchgardens.com/entertainment/fireworks/
https://www.ifoothills.org/events/red-white-and-you/