In the market for a new truck in Denver? Well, look no further than one of Honda's latest creations. The versatile 2019 Honda Ridgeline arrived at our Honda dealership in Centennial recently, and it's a beautiful sight.

Exclusively manufactured in Lincoln, Alabama, this new Ridgeline is an American-made superstar that isn't your grandfather's pickup. Instead, it's one sweet ride that merges rugged dependability with cozy comfort. Honda hails it as the "ultimate tailgate vehicle." Notably, the experts happen to agree; U.S. News & World Report describes the Ridgeline as "a great truck" that "delivers one of the best rides and most upscale interiors in the class."
But we know what you're thinking: "Cut the spiel, and start talking about the specs already." With pleasure.
Revolutionary Bed Features
Honda fans: this one's for you. The 2019 Ridgeline boasts a Dual Action tailgate, which you can either lower or swing open. It's the second option that's turning other truck owners green with envy. Now, you have options for loading and unloading items without that pesky tailgate getting in the way.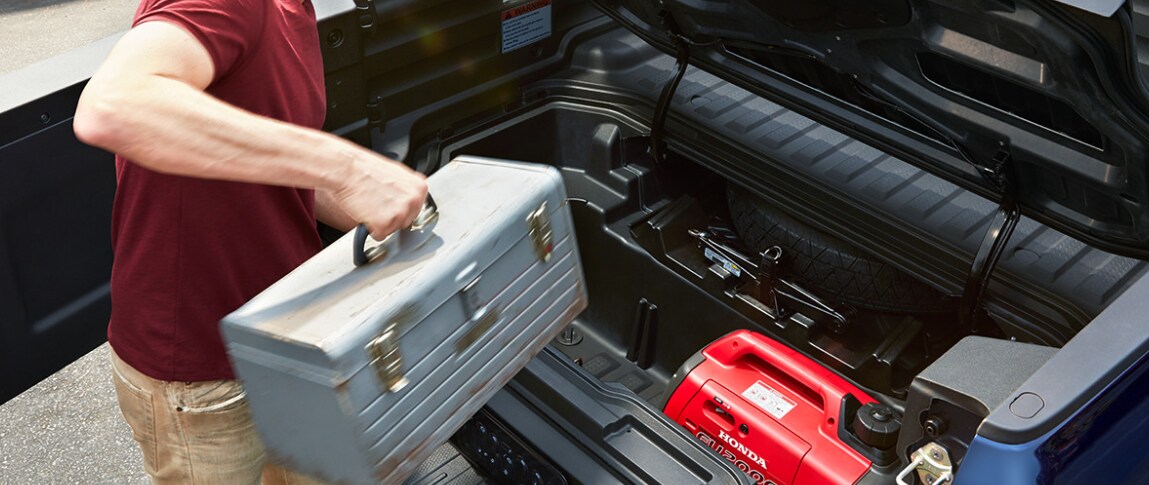 The Dual Action tailgate also provides easy access to the lockable, weather-sealed In-Bed Trunk®. And wait for this: the in-bed trunk comes with its own 115V AC power outlet and the world's first Truck Bed Audio System. Yes, a truck bed with its very own Bluetooth-compatible sound system! To provide you with phenomenal sound quality, the engineers at Honda embedded 6 audio sound exciters in the truck bed walls. Now, do you see why Honda dubbed the 2019 Ridgeline the "ultimate tailgate vehicle"?
New Interior and Exterior Features in Specific Models
For 2019, the RT, Sport, and RTL models now include a second USB port. Meanwhile, RTL and RTL-T owners will get to enjoy power-sliding rear windows and a one-touch power moonroof.
Honda also introduced the exclusive Black Edition for 2019, which is only available on the RTL-E trim, but adds a tough new look. Its rugged vitality is drenched in uncompromising black pearl, and it's 100% powered by AWD with Honda's trademark Intelligent Variable Torque Management™ (i-VTM4). On low-friction terrain, electro-hydraulic clutch packs promote seamless distribution of torque to the rear wheels. Instead of skidding along, the Black Edition exudes reliable dominance and stability.
How the 2019 Honda Ridgeline Stacks up to Its Competitors
The 2019 Ridgeline leads the industry in fuel efficiency standards. It boasts fuel-economy ratings of 19/26/22 (city/highway/combined) for 2WD and 18/25/21 for AWD. With these numbers, the Ridgeline leaves its competitors in the dust. In contrast, the 2018 Nissan Frontier is only rated at 16/22/18 (city/highway/combined).
Additionally, the Ridgeline puts out at a phenomenal 280 hp and 262 lb.-ft. of torque. In contrast, the 2018 Toyota Tacoma clocks in at 278 hp, and the 2018 Nissan Frontier at 261 hp.
Awards from 2018
In 2018, the Ridgeline was Car and Driver's "Editor's Choice" pick for best mid-sized pickup truck.
It demolished its nearest competitor, the Toyota Tacoma, in a few notable ways. First, the Ridgeline gets 26 mpg on the highway, while the Tacoma can only claim 23 mpg. Second, the Ridgeline is definitely a more comfortable ride. It has a passenger capacity of 5, as opposed to the Tacoma's 4. It also has greater head, shoulder, and leg room. Third, the standard Ridgeline can power up 280 hp @ 6000 rpm, while the standard Tacoma can only manage 159 hp @ 5200 rpm.
Kuni Honda: Your Friendly Neighborhood Honda Dealer
We don't know about you, but all this talk of truck competition is strangely energizing. If you feel the same way, let's talk trucks! At our Denver Honda dealership, we're all about great vehicles, personalized customer service, and affordable loans. So, don't wait to get inside the new Ridgeline! Call Kuni Honda today at (720) 636-7000, and our Honda sales team will be happy to answer your questions about current Honda deals, financing options, and more.
Sources & Photos:
https://automobiles.honda.com/ridgeline
https://www.kbb.com/honda/ridgeline/2019/
http://hondanews.com/releases/rugged-yet-refined-honda-ridgeline-arriving-at-dealerships
http://www.motortrend.com/cars/honda/ridgeline/2019/
http://www.motortrend.com/news/2017-motor-trend-truck-of-the-year-introduction/
https://www.thecarconnection.com/car-compare-results/honda_ridgeline_2019-vs-toyota_tacoma_2018