For car enthusiasts, the NAIAS (North American International Auto Show) is the country's premier annual car show. Now in its 111th year, NAIAS remains the reigning king of automobile shows this side of the Atlantic. Wiggling in between the Big Three (General Motors, Chrysler, and Ford) at each Detroit Auto Show, Honda has captivated the public's imagination with exciting new offerings and updates every year. For 2018, nothing's changed.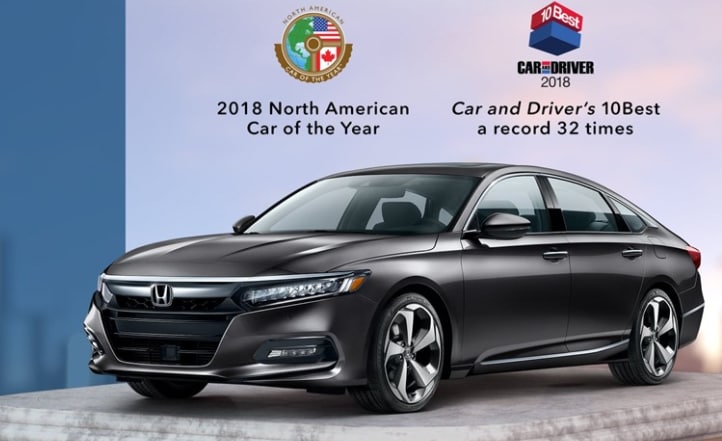 Photo: automobiles.honda.com
The Award for North American Car of the Year Goes To...
The 2018 Honda Accord. And it wasn't even close.
The win marks the third consecutive time Honda has earned exclusive recognition for automotive excellence. In 2016 and 2017, respectively, the Honda Civic and Honda Ridgeline earned the highest awards in the car and truck categories. The new Accord has also earned Car and Driver's 2018 10Best award. In fact, Honda Accords have made the 10Best list an unprecedented 31 times.
On hand to receive the NAIAS award was Henio Arcangeli, the senior vice president of Honda's automobile division. During his acceptance speech, Arcangeli acknowledged Honda's rivals, Kia and Toyota, for their commitment to automotive excellence. He also announced that the 2018 Accord would be succeeded by the Accord hybrid very shortly—and all of us at Kuni Honda are excited to see that promise come true.
Until then, we'll have to bask in the glory that is the 2018 Accord, which includes the following game-changing and segment-defining new features :
Two new, high-torque VTEC® 1.5L and 2.0L turbocharged engines. The 1.5L puts out at 192 hp and 192 lb-ft of torque, while the 2.0L puts out at 252 hp and 273 lb-ft of torque at a chugging 1500 rpm.
A New two-motor hybrid powertrain, which packs 600 fuel-efficient miles into its tidy configuration.
More trunk space.
The world's first 10-speed automatic transmission for a front-drive car.
Standard Honda Sensing safety package with Lane Keeping Assist System (LKAS), Lane Departure Warning (LDW), Collision Mitigation Braking System™ (CMBS™), Adaptive Cruise Control (ACC), and Blind Spot Information System.
The return of popular tuning and volume knobs on the 7.0-inch or optional 8.0-inch infotainment touchscreen.
Debuting the 2019 Honda Insight Sedan Prototype
This prototype was introduced at the Detroit Auto Show on January 15, 2018. Honda's latest offering from its line of hybrid-electrified vehicles is sure to impress with its projected 50 mpg EPA combined fuel-efficiency rating. According to Green Car Reports, the expected rating exceeds the high-mileage versions of the Toyota Prius Liftback and Hyundai Ioniq Hybrid (at 56 and 58 mpg, respectively). The new 2019 Insight is slated to be built in the United States, a departure from the two previous generations of Insights that were imported from Japan.
Distinctive features of the 2019 model include:
A 1.5L Atkinson cycle powertrain, which delivers a crucial valve timing adjustment to the Otto cycle. This makes the 2019 Insight the most fuel-efficient Honda hybrid. The powertrain is combined with two electric motors and a lithium-ion battery.
Premium 8-inch infotainment touchscreen with customizable app tiles integrated with both Android Auto and Apple CarPlay.
Standard Honda Sensing Safety package with LaneWatch.
Are you as excited as we are about the new Honda models unveiled at the NAIAS? That's perfectly understandable. But if you can't patiently wait for the newest arrivals to hit the showroom floor at our Centennial Honda dealership, why not come test out a vehicle that can be tested out? The 2018 Accord should be at the top of your list, but don't overlook new models like the HR-V, which is a perfect companion for your next Denver ski trip.

Don't choose your new Honda alone. Come into our Honda dealership near Denver to speak with an expert about our selection and current Honda lease deals. Call, contact, or visit Kuni Honda today!
Sources & Photos:
http://news.honda.com/newsandviews/article.aspx?id=10125-en
https://automobiles.honda.com/accord-sedan
https://www.caranddriver.com/reviews/2018-honda-accord-first-drive-review
http://world.honda.com/news/2018/c180116beng.html
http://world.honda.com/news/2018/c180116aeng.html
http://autoweek.com/article/green-cars/7-things-you-need-know-about-2019-honda-insight
http://autoweek.com/article/green-cars/atkinson-cycle-explained
https://www.motorsport.com/imsa/news/rolex-24-second-practice-castroneves-penske-acura-99106/