Once a (somewhat) derivative version of the market's top dog Toyota Prius, the (somewhat) oddball second-generation Honda Insight was never a best-seller, leading it to be discontinued in 2014. We barely batted an eye at its dismissal from the Honda lineup at the time, but now the 2019 Insight has been gloriously resurrected—and this re-imagined Honda hybrid should stick around for quite a while.
Well-equipped, chic, comfy, quiet, fuel-efficient—the 2019 Honda Insight delivers on grand promises of being the hybrid car that every fuel-conscious Coloradan dreams of owning. And it's available right now at our Honda dealership near Denver. But enough about us; here's all you need to know about the fantastic new Honda Insight.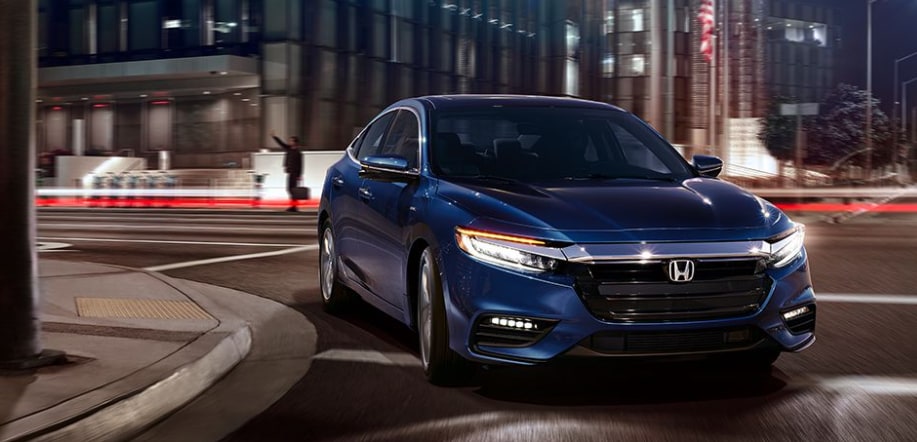 All About Those MPGs
Gas prices are still relatively low, but for how long? The 2019 Insight LX and EX trims come with a 55-mpg city rating—the Touring model takes a slight dip with 51 mpg—meaning you won't have to rely so heavily on gas pumps when oil reserves inevitably deplete.
Credit for those gas-sipping numbers goes to the impeccable two-motor hybrid system, which pumps power to the front wheels and 1.1-kWh lithium-ion battery as needed. Adapted from the Accord Hybrid, the duo is led by the traction motor, which makes 129 horsepower and 197 lb-ft of torque. That's on top of the 1.5L Atkinson inline-four that produces 107 hp and 99 lb-ft of torque.
Most impressive, however, is the Honda Insight's lack of a "traditional" transmission. At low speeds, the traction motor spins the drive wheels without any engine drone. Transitioning to moderate speeds, the Insight becomes a standard hybrid car, delivering power to the traction motor via its Atkinson engine and battery. With heavy loads, all hands on deck! Rethinking the transmission when building the Insight was a wise decision by Honda engineers.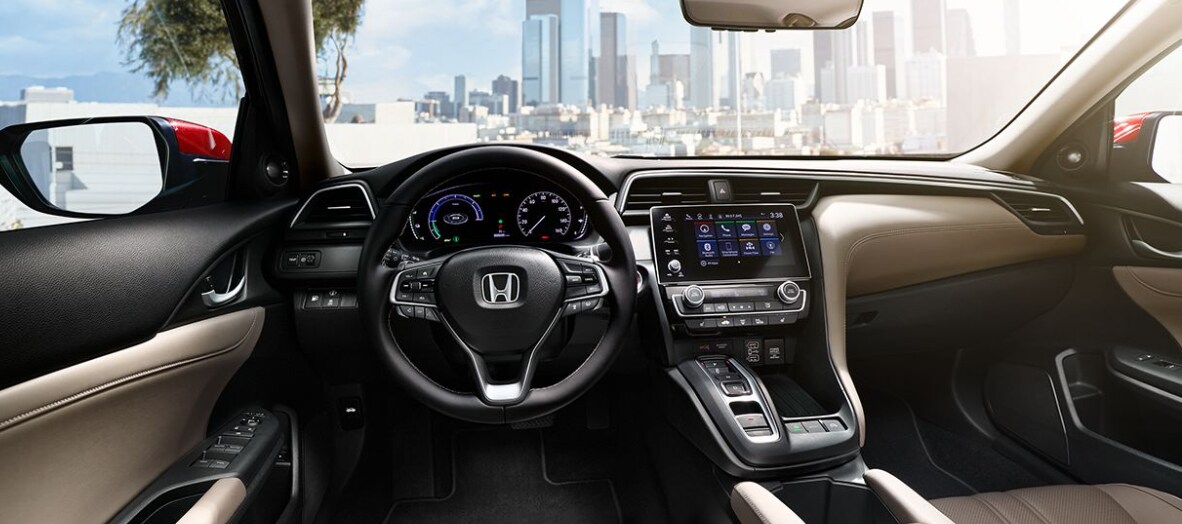 Civic DNA Runs Deep
Based on the Civic sedan, the new Insight is equal parts sporty and practical. Put into "Sport" mode, the Insight gets a bump of acceleration for maximum output, especially when paired with the paddle shifter. To keep things on the down-low, pop the Insight into "EV" mode for one-pedal driving and regenerative braking. Or just keep it in "ECON" mode to maximize gas-conserving ability.
Like the Honda Civic, the new Insight also comes with a similar albeit looser electric steering-assist system to aid in braking and turning. Its brakes are just as nuanced, allowing you to gently come to stops and control the obnoxious "drag" that often exists in hybrid cars.
On the inside, the 2019 Insight is a full-fledged sedan, not a compact hybrid. Much like the Civic and Accord, the Insight's front seats accommodate lanky-legged passengers just as much as broad-hipped ones. Even the 60-40 split back row seat has plenty of space for two adults. A 15-cubic-foot trunk is standard, but that cargo space expands to 40 cubic feet when utilizing the rear-seat pass-through.
EX and Touring trims come with an 8.0-inch display and infotainment system, which is the same as the Accord's, and it features Apple CarPlay, Android Auto, Wi-Fi, satellite and HD radio, two USB ports, and the return of a volume knob. In the central stack, the Insight keeps with Honda's newest tradition by adding an electronic parking brake. Press the button when you're stuck in a drive-thru line or waiting for your prescription at the pharmacy, and rest that shin (it's much handier than you'd expect, once you pledge to use it).
Sensibly, the Honda Sensing safety suite is included with every Insight. That means you get forward collision warning, collision mitigation brakes, lane departure warning, lane keep assistance, road departure mitigation, adaptive cruise control, and traffic sign recognition with the base Insight LX. The mid-range EX trim also features LaneWatch, its blind-spot detection system.
The Reinvigorated Insight: Now for Sale or Lease at Kuni Honda!
Stop debating whether to buy a hybrid or a standard car when you can get the best of both worlds with the 2019 Insight. Available in three spectacular trims (LX, EX, & Touring), the all-new Honda Insight has plenty to love at an affordable price. What else could you ask for in a new car?
Visit Kuni Honda in Centennial, your Honda dealer near Denver, CO, and test drive the 2019 Insight or any of our new Honda models today. Contact our Honda sales team at (720) 636-7000 to discuss your lease or auto financing options, get a quote on your trade-in, or learn more about the newest Insight. Happy driving!
Sources & Photos:
https://automobiles.honda.com/insight
https://www.caranddriver.com/reviews/2019-honda-insight-first-drive-review
https://www.digitaltrends.com/car-reviews/2019-honda-insight/