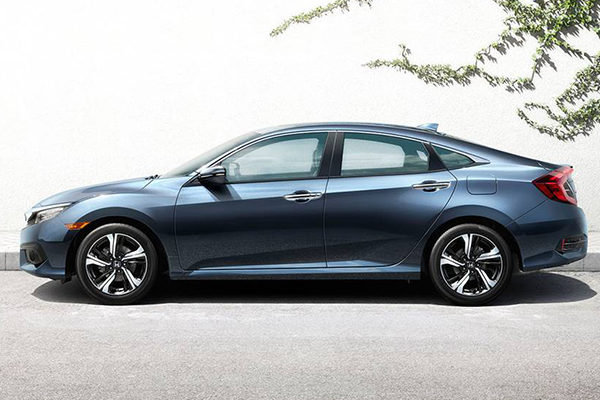 Honda Civic Service Repair by Parker Colorado
It can take a long time and a lot of hard work to find the right car to purchase. After spending so much time, energy and money buying your Civic, you understandably want to keep your vehicle well-maintained so that you can enjoy many long years of use from it and to delay the need to go through the buying process again. Scheduling Honda Civic service repair near Parker CO at the first sign of a repair issue and getting periodic maintenance services completed on your vehicle are great ways to promote the longevity of your Honda Civic. Kuni Honda serving Parker Colorado is the right place to go for quality service work on your vehicle, and a closer look will reveal why this is true.
The Importance of Regular Maintenance Service on Your Honda Civic
When your vehicle is well-maintained through periodic maintenance services, repair issues can be minimized. In addition, some services can help your vehicle to run more efficiently. Your manufacturer recommends periodic service on your Honda Civic, and the team at Kuni Honda by Parker can provide you with details about your next scheduled service. For example, your vehicle may need regular oil and filter changes, tire rotations and balancing, transmission services and more at regular intervals over time. Regardless of the current age and condition of your Civic, now is a great time to contact the trusted Kuni auto service team to schedule maintenance service on your vehicle.
The Need for Quality Repair Work on Your Honda
The Civic is a trusted and dependable vehicle that drivers have loved driving for decades, but even the most reliable vehicles need repair work from time to time. You may have had a mechanical breakdown, or you may have been in an accident that has damaged your Civic. When you need Honda Civic service repair near Parker CO, your Kuni automotive team can assist you. For both service and repair work, quality parts are installed by a team of skilled and experienced ASE-certified mechanics. You can rest assured that your car will be beautifully restored to its previous condition without delay when you trust the hardworking Kuni team to work on it.
Fast, Reliable Service From Your Kuni Team
Having your car in the shop for service and repair in an auto service center by Parker can be stressful and inconvenient. After all, you may rely on your Honda for dependable transportation every day, and you may not have a convenient method of transportation while your car is in the shop. With this in mind, you want to find an auto service center serving Parker Colorado that provides quality work with speed. The Kuni team is known for provide quality work so that the job is done with a single visit to the dealership. In addition, this auto service team is available to work on your Civic six days a week with extended business hours. This means that your car is in and out of the shop without delay. Regardless of how seemingly minor or extensive your service needs are, rest assured that the hardworking team at this dealership are up for the job. Whether you need maintenance service or Honda Civic service repair near Parker CO, you can expect wonderful results when you trust the Kumi team to take care of your vehicle.
Access to Comfortable Amenities and Convenient Services
Many Kuni customers who only need a few hours of work completed on their Civic will wait in the comfortable lobby while their vehicle is being serviced. The lobby features plush seating coupled with cable TV for entertainment and wireless Internet access with computer bays for those who need to get some work done while they wait. The kids can play in the play area while your car is being serviced, and everyone can enjoy complimentary drinks, such as free water and coffee. If your vehicle needs more work completed, Kuni is the service center by Parker that offers on-site car rental service as well as courtesy shuttle service for your convenience. With these amenities and services available at your local Kuni dealership, you can see why many Honda owners prefer to take their vehicle to the dealership for service and repair needs.
Easy Appointment Scheduling
The Kuni team understands your desire to get your vehicle in and out of the repair and service shop as soon as possible, and one of the best ways you can ensure this happens is by scheduling your auto service appointment ahead of time. When you do so, a bay will be available for your vehicle as soon as you arrive, and the team will get right to work on your car. Making an appointment for needed auto service at the Kuni dealership in Parker is easy to do. You can set up your appointment online or by calling the office. Chat messaging is also available online for your convenience.
You have several choices to consider when deciding where to take your Civic to for vehicle repair and maintenance services near Parker, but you can see that there is one clear option that stands apart from the rest. At Kuni Honda serving Parker Colorado, the entire auto service team strives to provide each valued customer with exceptional service from start to finish. If your vehicle needs service, now is a great time to schedule your appointment online or by calling the office directly.