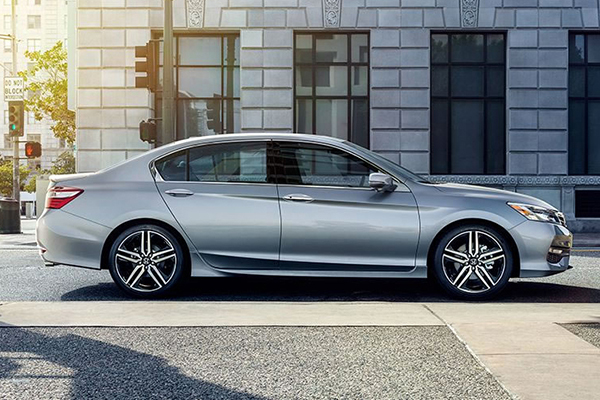 Honda Accord Repair near Parker Colorado
The Honda Accord is one of the most popular sedans on the road today, and there are plenty of good reasons for this. After all, the Accord is a stylish, dependable and affordable vehicle that is available with various trim levels to meet a wide range of needs. While this is a quality vehicle that is designed with rugged performance in mind, the reality is that even the most well-made vehicles will need professional service and repair from time to time. You may have purchased your Accord from Kuni Honda serving Parker Colorado, or you may have purchased your Accord from another dealership. Regardless of where you purchased your vehicle, you may now be wondering where to go for Honda Accord repair near Parker Colorado. Kuni Honda is your best source for all types of service requests on your Accord, and a closer look will reveal why this is true.
Assistance with Regular Vehicle Maintenance
You may notice that there are many Accords on the road that are a decade old or more. This is a sure sign that the Accord is a quality vehicle that will serve you well for years to come. Properly maintaining your vehicle with regular service and repair is critical. The Kuni team can help you to stay on track with manufacturer's suggested maintenance, such as tire rotations, oil chances, transmission services and more. We also offer electrical services, tire balancing, air filter replacement, muffler service and more. You simply have to call the dealership or stop by in person to learn more about your vehicle's next suggested maintenance service and to set up an appointment time that is convenient with your schedule.
Professional Results With Serious Honda Accord Repair Issues
While the majority of your Honda's service needs may be related to on-going and routine vehicle maintenance, there may come a time when you need to set up service for Honda Accord repair near Parker Colorado. For example, you may need to schedule Honda Accord repair service after being involved in a car accident. You understandably want your vehicle repaired professionally by skilled mechanics, and you also need to get back on the road quickly. When you bring your vehicle to our hardworking automotive team, it will be professionally repaired by ASE-certified and master-trained auto specialists in our state-of-the-art bays. We only use quality parts to ensure the best results possible, and you can rest assured that we can return your vehicle to its former condition without delay.
Friendly, Knowledgeable Service From Kuni Honda
As your trusted repair and maintenance center serving Parker Colorado, our automotive specialists are also available to provide you with guidance and support for all of your vehicle's needs. You can easily chat with our team online to learn more about various Honda Accord repair and maintenance services needed for your Accord or to check on the status of your vehicle when it is being serviced by us. We are available for in-person consultations, and you can call ahead to make an appointment. This will keep your wait time for Honda service to a minimum. You can always expect friendly service and knowledgeable answers from our team.
The Services You Need When Your Vehicle Is Scheduled for Service and Repair
If you have never visited our dealership for Honda Accord repair near Parker Colorado, you may be wondering what to expect from us. We strive to make all aspects of the service comfortable and convenient for you. For example, we offer courtesy shuttle service so that you do not have to wait in our lobby while your car is being serviced. We also offer drive-in and drop-off service with an overnight drop-off option available. In our facility, you will find a children's play area, free wireless Internet access with computer bays available, comfortable seating with cable TV, complimentary refreshments and more. We want you to be as comfortable as possible while we work on your Honda Accord. There is even an on-site Hertz rental car office for your added convenience.
How to Get the Service Your Honda Accord Needs
If you have never visited our dealership serving Parker Colorado, you may be wondering how you can set up an appointment with our team. The best way to schedule your appointment is to call our office during normal business hours. We have extended service hours Monday through Saturday each week. Our extended hours mean that it is easy to reach us when you need to and that your vehicle will be serviced in a timely manner. You can also bring your car directly to us for a quote, and we can set up a firm service date with you in person when you do so. To limit the amount of time your vehicle is in our bays, we recommended making your appointment in advance.
Keeping your Accord well-maintained over the years can be a challenge. Your daily use of the vehicle can create serious wear and tear, and you must address the damage to your vehicle in a timely manner to keep it maintained in great condition. Our skilled automotive professionals have the quality parts and exceptional training needed to complete all types of vehicle services in a timely manner. We go to great lengths to impress our valued customers with a wonderful overall experience. If your Honda needs service soon, make your appointment with the Kuni team today.