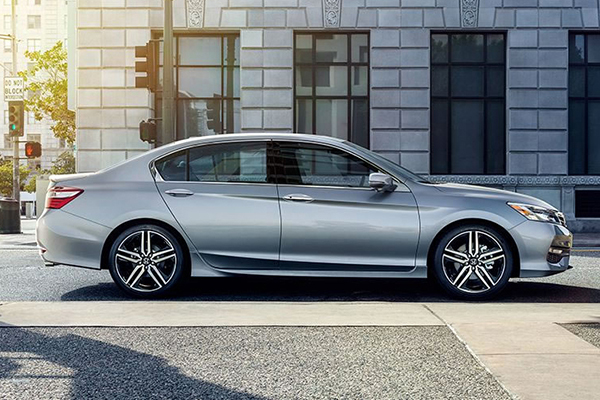 Denver Area Honda Accord Service Repair
A vehicle is a great way to get around, and few people could imagine their lives without owning one. It is important, however, to give your car the regular care and attention that it deserves. While the Honda Accord is a very reliable vehicle that is known for generally lasting a long time, treating it right by giving it regular service will help ensure that it reaches its maximum life potential.
Here at Kuni Honda, we have a team of devoted professionals who are dedicated to taking care of your Honda. No matter what kind of Honda Accord repair you are seeking, we have the skills and expertise to help keep you on the road safely. Located in the Denver area, we can provide Denver Honda service repair in a variety of ways.
Whether it is a regularly scheduled oil change, regular replacement of brake components or a repair of an unexpected problem, a Honda Accord requires a lot of maintenance in order to keep driving well. Paying attention to Honda recommendations regarding when to perform maintenance on your vehicle and acting on those recommendations as scheduled is always a good idea.
Failing to perform service when needed means that you are shortening the life of your car. With Denver area Honda Accord service repair being so easy with Kuni Honda, there is really no reason to avoid performing these essential services and repairs. Performing recommended services means that you are keeping the many complex parts of your vehicle in top condition. Ignoring the need for service means that the parts of your vehicle will begin to wear, which can lead to them eventually losing functionality. There is little that is worse than being stranded on the road because something in your vehicle has broken down!
It is not only regularly recommended services that are important to keeping your car running in good shape. Sometimes repairs of unexpected problems are also necessary. Just like with scheduled services, it is important to take care of a repair as soon as you learn of a problem. This helps prevent the development of even bigger problems later on. Honda Accord repair is definitely a lot easier than you think when you have the team of professionals that we have on the job.
Treating a car well helps to ensure that it treats you well by giving you years of uninterrupted service. Those who are willing to take care of their cars find that their cars also take good care of them. Even the most reliable of brands may not achieve their full potential if they are not treated well. Repairs can often be a lot less expensive in the long term than going through the process of purchasing a new vehicle.
A dependable vehicle is something that is probably very important to your life. Whether it is a reliable way to get to work every morning or a way to get the kids to the activities that help them shine, your car is a very important part of your life. Keeping it in top shape by providing all of the services and repairs it needs means your life is a lot easier to live.
We have been performing Denver Honda service repair for a long time and know exactly the kind of care that your Honda Accord needs to stay in the shape you want it to. It is very easy to take the first step toward Honda Accord repair or Denver Honda service repair. All you need to do is call Kuni Honda or schedule an appointment with us online. Denver area Honda Accord service repair is best left in the hands of professionals like those you will find here. Your Honda is something you want to last you for a long time, and allowing professionals to perform regular maintenance and repairs is the best way to help that happen so that you can drive to where you need to be. If you are looking for Denver area Honda Accord service repair, give us a call or schedule an appointment with us online. With the level of service and care we provide, we are more than confident that you will not be disappointed.