New Honda 2019 Honda Civic Sedan near Denver CO for Sale in Centennial, CO
2019 Honda Civic Sedan near Denver CO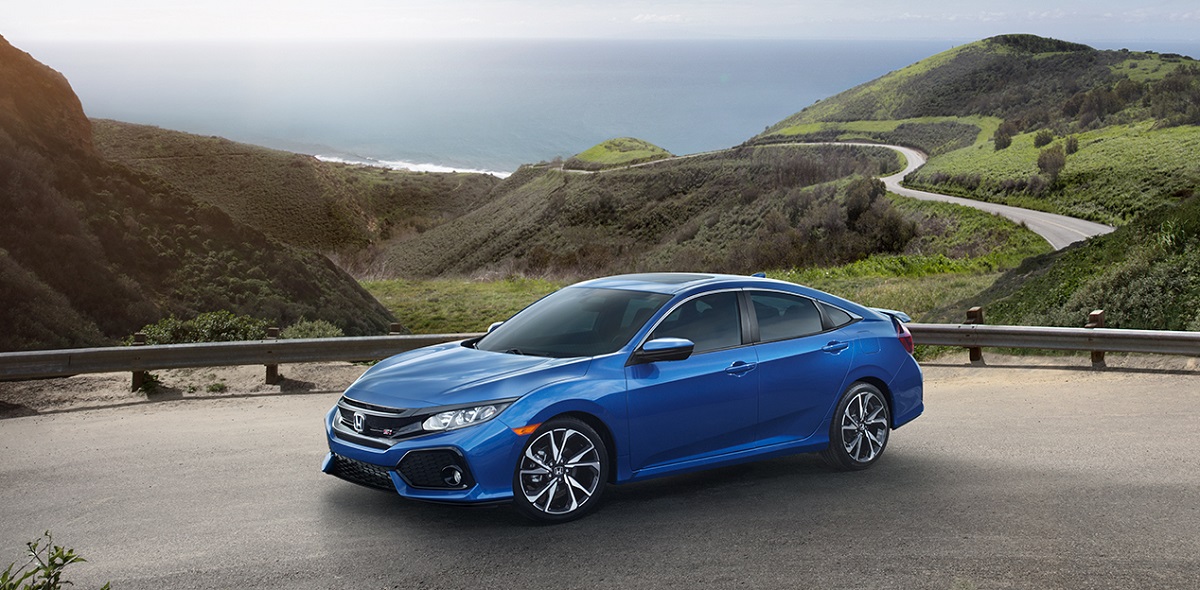 View Inventory
Vehicle Overview
Compact sedans are some of the best-selling automobiles in the world, and the Honda Civic sedan is no exception to the rule. For 2019, this future vehicle will be coming out with an all-new exterior appearance that will surely capture the attention of the general public. Compact sedans have a lot to offer, including great style, better performance and a lower price tag. If you reside near Denver, Colorado, then you should definitely swing by Kuni Honda for a more detailed discussion about this future vehicle. This article is directed to you, the consumer, in hopes that you'll get a better grasp to why the Civic is still a fan-favorite.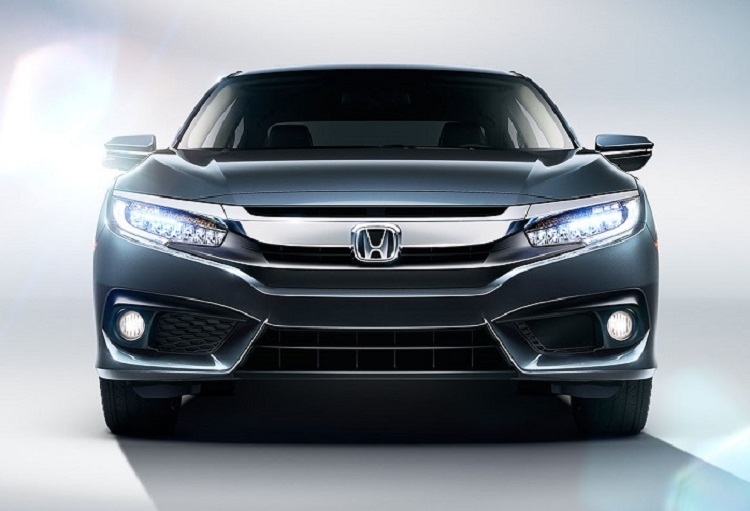 Exterior – 2019 Honda Civic
The 2019 Honda Civic sedan is sleek and sexy thanks to its sweeping curves and aggressive lines. This new model comes with a few styling updates such as the guided front-facing LED headlamps, which are designed to give the driver a better view of the road while in unfavorable conditions. Unlike many of the previous versions from this brand, the 2019 Honda Civic sedan is aerodynamically designed for better performance. Its long wheelbase is low to the ground, which gives it a bold stance. Subtle grooves can be seen on the bonnet and on the side doors, which gives it a very distinct look.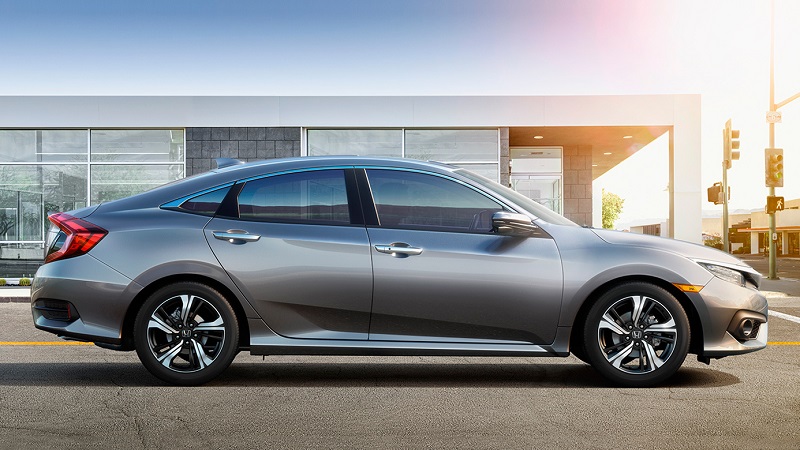 The restyled 2019 Civic sedan has just enough chrome accents to give it some extra flare, and the unmistakably emblem is perfectly centered in the front grille for prominent display. The C-shaped LEDs to the rear are unique, and these lights really give off an aggressive profile. This automaker does a great job with its metallic paints such as rally red, cosmic blue, lunar silver, crystal black pearl and white pearl. All in all, this vehicle doesn't feel too overpowering in the looks department, which makes it a hit for both males and females. Living near Denver Colorado has its advantages and as of 2018, serving Denver Golden Highlands Ranch is a priority.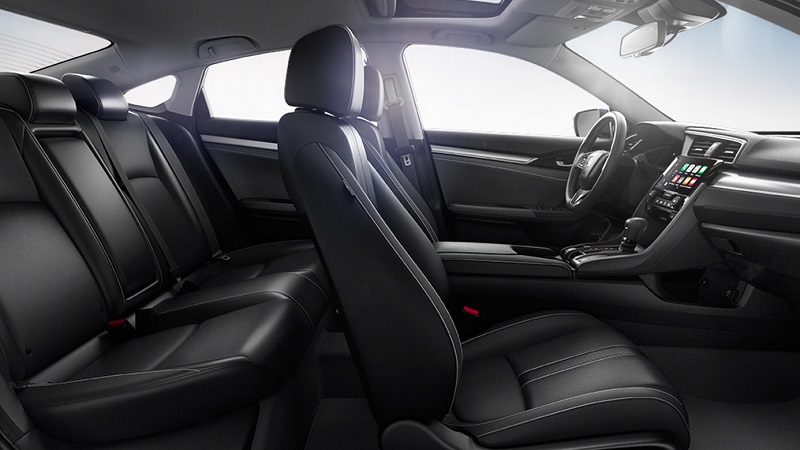 Interior – 2019 Honda Civic near Denver
In spite of its smaller size, the 2019 Honda Civic sedan provides ample room. All of the controls are in arms length of the driver. This car's cabin feels like you're sitting in a cockpit of a fighter jet, and its seats are very racy. To add more sophistication into the mix, this popular brand of vehicle will be offering multiple materials in upholstery. The seats will come in multiple leather types as well as come in multiple cloth types. The steering wheel will also be wrapped in leather, and leather trim will be fluent throughout the interior cabin. Will you need to get to your favorite app? This vehicle has a beautiful 8.0-inch infotainment touchscreen display that is brilliantly colorized. One of the better features here is the design-centric instrument panel.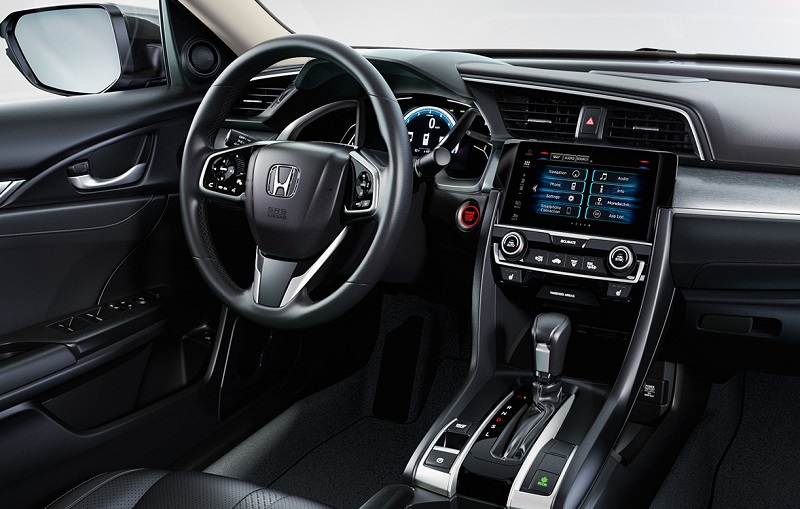 This instrument panel epitomizes the term digital dash. Its single-level display is easy to read, and its lighting isn't too overbearing on the eyes. The restyled 2019 Civic sedan is a sight for sore eyes. This 10th-gerenation sedan has all of the trimmings and then some. For those who love to listen to their favorite tunes, this sedan comes equipped with a 10-speaker sound system. The touch-sensitive audio slider of the previous version is now history. The Japanese automaker has replaced it with the practicality components of standard knobs. So, what else can this sedan offer consumers? If you're near Denver Colorado, then the answer to this question will intricately be given to you, but here are some extra attributes below.
Wi-Fi Hotspot Capability
Apple CarPlay Technology
Android Auto Connectivity
Wireless Phone Charging
And many more
Mechanical Performance & Powertrain – 2019 Honda Civic near Denver
As of August 1, 2018, this automotive brand hasn't mentioned any new mechanical changes for this future vehicle. As of now, it is said that there will be an option for two engines. Civic buyers will be able to choose between a continuously variable transmission or a 6-speed manual gearbox. The 2.0-liter 4-cylinder engine of the base model will produce 158 horsepower and 138 pound-feet of torque. For those who may be wanting even more power, there will be an upgraded version of this vehicle that will produce 174 horsepower and 162 pound-feet of torque. This upgraded version will offer a 1.5 liter turbocharged engine. Drivers will have more than enough power to travel, to run errands or to cruise around the city streets. Serving Denver Golden Highlands Ranch with high-quality vehicles is one of the main goals.
Safety – 2019 Honda Civic dealer
When it comes to safety and security, the 2019 Honda Civic will give you more than enough capability while you're on the open road. This brand has put a lot of capital, time and thought into creating a highly safe vehicle. This exceptional automaker does a wonderful job of incorporating many preventive-safety features such as collision mitigation braking, road departure mitigation technology, lane keeping assist and adaptive cruise control. The advanced Lane Watch technology uses a tiny camera on the passenger mirror that provides a live feed when changing lanes. Honda Sensing technology alerts you of any incoming disturbances.
If you live near Denver Colorado, then you should come by Kuni Honda to get more information on a the restyled 2019 Civic sedan. Not only is Kuni Honda serving Denver Golden Highlands Ranch, it serves many neighborhoods throughout "The Mile High City."