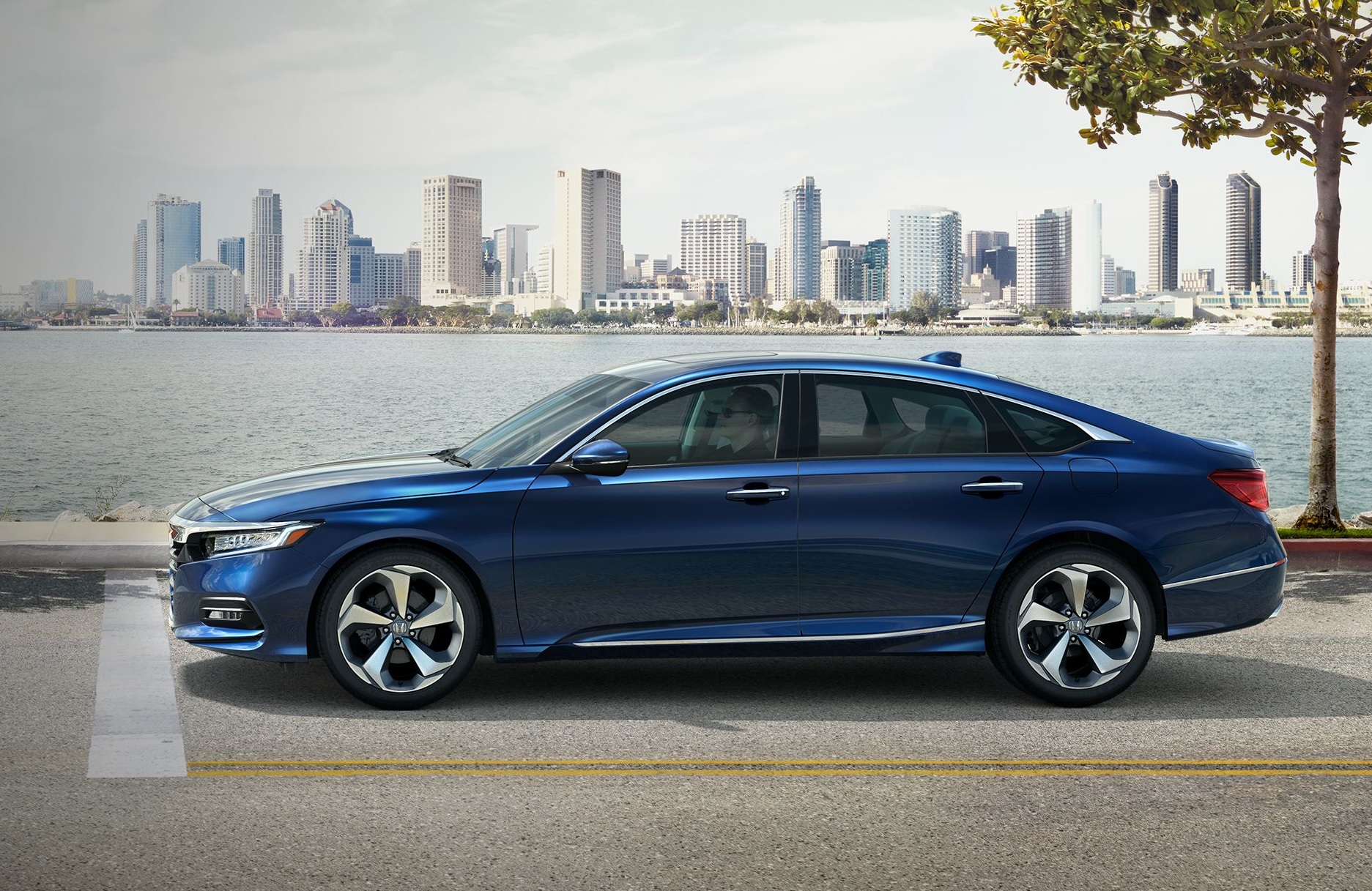 2018 Honda Accord near Denver CO
For years, the Honda Accord has remained one of the best-selling family sedans on the market. Not only does the Accord have a reputation for being extremely reliable, but it is also fun to drive. For good reason, everyone in the automotive community is talking about the completely redesigned 2018 Honda Accord. While the sedan's sleek new styling will initially catch your attention, its improved performance will leave you even more impressed. You can expect Kuni Honda to have all of the exciting trims on display. After reading this review, you will see why the all-new model has created such a big stir.
Interior
In terms of passenger comfort, expect the 2018 Accord to rank near the top of the segment. To make the new model even harder to beat, Honda expanded the size of the sedan's cabin. This equates to significantly more space for your family. In fact, your backseat passengers will be rewarded with an additional two inches of legroom. Whether you are taking a trip to the mall or heading out of town for the weekend, look forward to experiencing a very relaxing ride. You will also appreciate the cabin's quietness. While even the base model has a high-quality finish, leather upholstery makes the higher trim levels look especially stunning on the inside. Keep in mind that luxurious upgrades, such as heated and ventilated seats, are available as well. All of the new trims come loaded with an extensive list of high-tech goodies. A helpful backup camera and a 7.0-inch infotainment display come standard. Of course, your local dealer serving Denver Centennial Highlands Ranch Colorado offers a number of other premium upgrades. While smartphone users can take advantage of Apple CarPlay and Android Auto, music fans may not be able to resist the 450-watt sound system. For the first time, you also have access to a 4G Wi-Fi hot spot. For more details on the various trims, feel free to contact Kuni Honda!
Exterior
The new model is bound to be among the hottest rides in the Denver area. It now looks more aggressive than ever before. Even when compared to luxury cars that are far more expensive, the new model is still able to stand out from the crowd. You are bound to fall in love with the sedan's coupe-like profile. A long hood and short hood contribute to the car's sleek new look. You will also notice the sedan's athletic stance, which gives it the road presence of a powerful sports sedan. A bold grille accentuates the new model's updated styling. To give the 2018 model a more striking appearance than before, it was equipped it with stunning "Jewel Eye" headlights. If you really want to impress your friends, check out the addictive Sport trim. It boasts a special set of performance wheels and race-inspired exhaust tips. While all of the available exterior colors have yet to be revealed, expect to be thoroughly impressed. Remember, your local dealer serving Denver Centennial Highlands Ranch Colorado can keep you updated on the latest details.
Mechanical
Drivers will cherish the new model's improved responsiveness on the road. When taking a sharp curve, the sedan will instantly showcase its balanced handling. Honda tweaked the suspension system to provide the ideal blend of ride comfort and sportiness. You can definitely look forward to experiencing a high-degree of driving excitement. When activated, the drive system's sport setting gives the sedan an extra fun factor. The steering system also automatically adjusts itself to the particular driving situation. While the steering feels light at low speeds, it firms up to provide more road feedback on the highway. During your test drive, you will see why everyone is raving about this dynamic midsize sedan. To be one of the first people in the Denver area to take the new model for a spin, contact Kuni Honda to schedule a date!
Powertrain
During their initial review of the 2018 Honda Accord, many car reviewers were blown away by the sedan's exhilarating performance. Your local dealer serving Denver Centennial Highlands Ranch Colorado introduces an all-new engine lineup. For most drivers, the base four-cylinder engine will prove to be an ideal choice. Direct injection and i-VTEC technology help the new engine to develop an inspiring 192 horsepower and 192 pound-feet of torque. Fuel efficiency is definitely a strong point. For the drivers who crave an even stronger punch under the hood, your Denver area dealer offers a larger 2.0L engine. It churns out a thrilling 252 horsepower and 273 pound-feet of torque. Very few sedans in the class will be able to accelerate as quickly.
Safety
As always, safety remains a top concern for today's families. Fortunately, the new 2018 Honda Accord is built to withstand extremely powerful impacts. Experts anticipate a class-leading, five-star overall safety rating. Every trim features a powerful anti-lock braking system. You can also take advantage of the sedan's standard advanced safety package, which includes an array of advanced driving aids. While automatic braking takes control during emergency situations, Traffic Sign Recognition technology helps you to remain aware of potential road hazards. Lane-keep assist, Road Departure Mitigation, and adaptive cruise control are included as well.
Thanks for checking out this review! Remember, you can always contact your local dealer for the latest information on the upcoming 2018 models.